Out of all the traditional Indian sweets, coconut burfi is the one easy to make at home sweet that you would find in every part of the India and savored with equal liking for every occasion and festival. Making it at home requires just 3 basic ingredients; fresh coconut, sugar and milk and you can give it your own personal touch by adding either cardamom, saffron or pineapple essence. To give it a richer taste and texture you can either use condensed milk or mawa (khoya) which also helps in binding the mixture. This step by step photo recipe of Nariyal Barfi uses condensed milk (which is easily available in any grocery store) for smoother feel, cashew nuts for extra nutty texture and cardamom powder for nice flavor. Don't forget to see tips section below give it your personal touch and alternative of using fresh coconut. It is popularly known as thengai barfi in southern India, kopra pak in Gujarat and as nariyal ki barfi in northern India.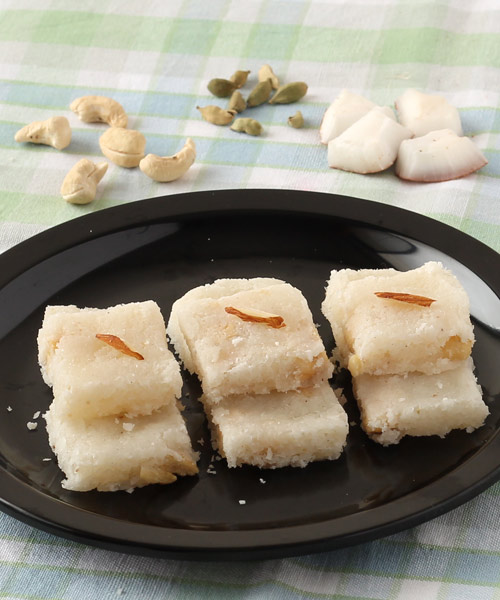 Preparation Time:
10 minutes
Ingredients:
1 cup scraped Fresh Coconut (without brown skin)
1/2 cup Sugar
2 tablespoons Condensed Milk
2 tablespoons Milk
1/4 teaspoon Cardamom Powder
3 tablespoons Cashew Nuts, chopped
1/2 tablespoon + 1/2 tablespoon Ghee
Directions:
Grease a plate or a mold with 1/2 tablespoon ghee and keep it aside. This plate will be used for setting the mixture once ready in step-6. Take grated or scraped fresh coconut, 1/2 tablespoon ghee and sugar in a non-stick kadai or heavy based pan and heat it over medium flame.

Stir continuously and cook until mixture turns light golden brown; it will take around 10 minutes.

Add condensed milk and milk.

Stir continuously and cook until mixture turns thick (as shown in the photo); it will take around 4-5 minutes. Add cashew nuts and cardamom powder.

Mix well and turn off the flame.

Pour prepared mixture into greased plate.

Spread evenly using spatula. Let it cool down for 8-10 minutes to room temperature.

Cut nariyal burfi into diamond or square shaped pieces using knife or spatula. When it cools completely, remove the pieces from the plate and enjoy.
Tips and Variations:
If you don't have an access to fresh coconut then use desiccated coconut powder (dry coconut) as its replacement. It will require you to add 3 tablespoons water in step-1 to prevent sugar from turning brown.
If you prepare coconut barfi in monsoon (when there is more moisture in the air) then make sure that mixture is cooked until it turns thick properly otherwise it will not set and turn gooey when it cools.
Add dissolved saffron or pineapple essence or any of your favorite food essence in step-4 to give it your personal touch.
Do not change the sugar quantity ratio (you can add more if you like it to be sweeter but do not reduce it) otherwise it will not set properly and you will not be able to make square pieces of it.
You can store it in an airtight container in the refrigerator and consume it within a week.
Taste:
 Sweet and soft with mild cardamon flavor
Serving Ideas:
 Enjoy it as dessert after dinner or as a candy anytime you like it.
Other Step by Step Recipes
---
7 Comments
---
Dec 26, 2015 by Gomathi
I tried making the barfi, it was good but the only problem was, I was not able to cut it as it was not hard as barfi.

Response: Thank you Gomathi for trying the recipe. The barfi turns soft if it is not cooked enough in step-4. When you try this recipe next time, cook it little longer in step-4.
---
Oct 21, 2015 by Vignesh
This can also be using 1 cup of grounded coconut scraping and 1/2 cup of sugar and 1/2 cup of cashew nuts semi grounded powder and 11/2 tbsp of water to get the rich taste.

---
Jul 23, 2015 by Rihika
I have tried this recipe but the mixture had turned dark brown after adding condensed milk to it and in this recipe sugar does not dissolve? In store bought coconut burfi, we do not find the whole sugar when we consume it. Please help me to make it as store bought one.

Response: Hi Rihika, sorry to hear that burfi didn't turn out well. Moisture from fresh coconut is enough to dissolve the sugar.
1.Sugar does not dissolve, if dry grated coconut is used instead of fresh coconut or fresh coconut is squeezed out before using.
2.Mixture turns dark brown, if the mixture is cooked over high flame or not stirred continuously while cooking.
If sugar doesn't dissolve, add little bit more milk and cook more for few more minutes.
---
Feb 19, 2015 by Nousheen
I tried this recipe. It tasted well but the burfi was a bit sticky. Could you please tell me where did I go wrong?

Thanks.

Response: Hi Nousheen, the main reason behind the sticky burfi is extra moisture because of the milk. Cook the mixture until it turns thick and little dry in step-4. If required, cook it for little longer duration (more than 5 minutes).
---
Feb 04, 2015 by Khushboo
Hi, you have mentioned about sugar but in which step we have to use sugar?

Response: Hi Khushboo, sugar is added in step-1, as mentioned in the description.
---
Oct 10, 2014 by ankita
I don't have condensed milk. What can i do?

Response: Hi Ankita, you can either use fresh cream (malai) instead of condensed milk or can skip adding condensed milk.
---
Sep 15, 2014 by asma begum
Nice I like it, I want to make it as soon as......

---