Vermicelli Kheer, a delicious Indian dessert made with milk and vermicelli strands is often served as a sweet accompaniment in lunch or dinner. In this recipe, vermicelli, which is also known as semiya or seviya, is roasted in ghee which gives it a nice aroma and its signature taste. This vermicelli pudding is sometimes referred as semiya kheer or seviya kheer as well.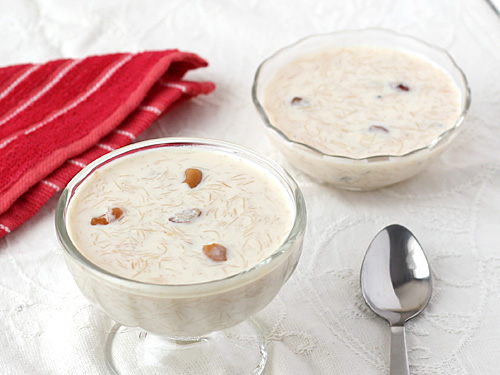 Preparation Time:
5 minutes
Ingredients:
1/2 cup thin Vermicelli
1 tablespoon + 1 tablespoon Ghee (clarified butter)
2½ cups Milk
3-4 tablespoons Sugar (or to taste)
1/2 teaspoon Cardamom Powder (Elaichi Powder)
1/2 tablespoon Raisins (kishmish), optional
1 tablespoon chopped Cashew nuts
1 tablespoon chopped Almonds
Directions:
Heat 1 tablespoon ghee in a heavy bottomed pan over medium flame. Add thin vermicelli.

Stir constantly and roast it until golden brown. Stir to roast all strands evenly. Transfer it to a plate.

In the same pan, heat another 1 tablespoon ghee and roast cashew nuts and almonds until light brown, transfer them to a plate.

Boil milk in the same pan or another pan over medium flame.

When milk comes to a boil, add roasted vermicelli. Stir and cook until it turns soft or for around 5-7 minutes. Keep stirring continuously while cooking and make sure not to overcook it.

Add sugar, raisins and cardamom powder. Stir and cook until sugar dissolves.

Cook for 2-3 minutes and turn off the flame. Let it cool at room temperature.

Transfer vermicelli kheer to a large serving bowl. Place it in a refrigerator for 1 or 2 hours to chill. If it turns too thick after chilling then add milk (previously boiled and cooled milk) to get your desired consistency. Garnish with roasted almonds and cashew nuts and serve.
Tips and Variations:
To get the thick texture of a kheer, let it set in refrigerator for 5-6 hours. It thickens as it cools and time passes.
Vermicelli can be easily found in any Indian or Asian grocery store.
Serving Ideas:
Serve it as a sweet dish in lunch or dinner or as a dessert after meal.
Other Step by Step Recipes
---
7 Comments
---
May 08, 2017 by shree
Thank you. It is really a great recipe.

---
Mar 31, 2016 by Emily Cook
Not that bad.
It was sweet, but a little bit too creamy.

---
Mar 31, 2016 by Harry
Is cardamom powder the same as cardamom?
I have used cardamom and it tastes great.

Response: Hello Harry, cardamom powder is the ground cardamom seeds.
---
Mar 11, 2016 by Placida
The steps were simple to follow and the full family enjoyed the dish. Thank you.

---
Aug 06, 2015 by Chiku
Perfect recipes step by step. Good taste as well.

Thank you so much for sharing.

---
Oct 21, 2013 by vrushali
Awesome. Website awesome way of explanation. Great tasty food, thank you so much, keep up the good work.

---
Feb 28, 2012 by Gopi
This is an awesome recipe. I made it as explained in this recipe and it came out very well. My family is hooked to it and i am going to make it again..Thanks for great recipe

---