It is probably the most common type of sweet and delicious food served on fasting days. However, one does not need to be on fast to enjoy it!! As name suggests this traditional Indian sweet is made from small size sago pearls. This sabudana kheer recipe is one of the easiest Indian dessert recipes and can be prepared in less than 20 minutes.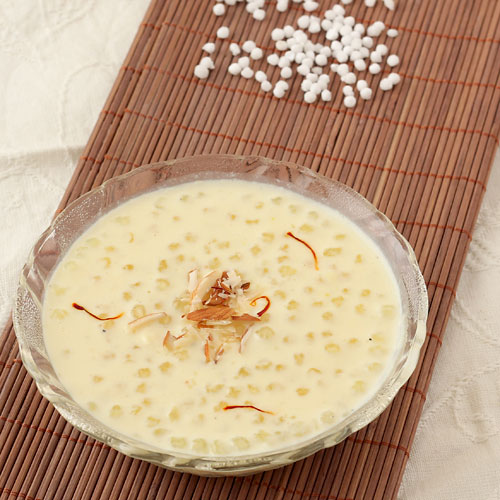 Preparation Time:
2 hours
Ingredients:
1/2 cup Sabudana (tapioca or pearl sago)
4 cups (1 liter) Milk
4 tablespoons Sugar
1/4 teaspoon Cardamom Powder (Elaichi)
4-5 Saffron strands(kesar), dissolved in 1 tablespoon Milk
2 tablespoons sliced Almonds (optional)
1/2 cup Water
Directions:
Wash sabudana in water and drain them.

Soak them in 1/2 cup water for 2 hours. They will absorb almost all water and their size will increase. If you want to use large size sabudana, then soak them in 1 cup water for at least 5 hours before cooking.

Heat the milk in a heavy bottomed pan over medium flame.

When milk comes to boil, add soaked sabudana.

Add sugar and stir well until it dissolves completely.

Cook them until they turn transparent and soft or for around 10-15 minutes. Make sure to stir continuously.

Reduce heat to low and add cardamom powder and dissolved saffron.

Stir continuously and cook until milk turns thick. It will take approx 5-7 minutes.

Turn off the flame and transfer prepared sabudana kheer to a serving bowl. Garnish it with sliced almonds and serve warm or chilled.
Tips and Variations:
When kheer cools down it will become thick as sabudana will absorb almost all milk. If you want to serve it chilled, then add 1/2 cup milk and mix well before serving.
Serving Ideas:
Serve it as a warm or chilled dessert on fasting days or with
masala puri
and
aloo curry
in party, lunch or dinner.
Other Step by Step Recipes
---
11 Comments
---
Apr 14, 2017 by Komal
Thanks for the wonderful recipes I tried it. It is very easy and very smooth to handle. Thanks a lot.

---
Mar 22, 2017 by anon
Thank u sooo much...my baby loved this kheer a lot..

---
Aug 02, 2016 by Amy
Awesome. I like it very much.

---
Jul 09, 2016 by Roopali kamle
I tried many recipes. Its was really awesome. Thanks for this great recipes with picture.

---
Jun 20, 2016 by Pooja Singh
It was really awesome. Thanks for this great recipe with pictures....

---
Jun 07, 2016 by Arzookiran
Perfect. Everything has been told very clearly.

---
Apr 12, 2016 by Sanghamittra
I really loved your this recipe. Its really delicious and mouth watering. I will definitely try this.I love desserts.

---
Dec 08, 2015 by Stefenie
I tried many recepies, its just yum!!!! Thanks.

---
Mar 10, 2015 by Zeba Sheikh
Hey, I have been following your dessert section specially made out of milk. Your desserts and the pictures look very tempting, I wish I could try my hands on them. Well I wanted to know what kind of milk do you use? I mean full fat? Just wanted to know since the color of the milk when it's reduced looks much different. Thanks for your reply in advance :)

Response: Hi Zeba, I use the full fat milk for most of the desserts (except bengali desserts) to get the creamy texture. The color of milk turns cream (off white / light yellow shade) when milk is boiled for longer duration and reduced in quantity.
---
Oct 01, 2014 by Coroline
I love French and Indian food, I prepared it for my husband and he said wonderful.

Response: .
---
Aug 18, 2014 by Jayshree
I made this kheer today, wow! it was a super hit. My sis never eats sabudana, but she really liked this kheer. Thank u for this wonderful recipe.

---