Make a delicious and healthy Indian sweet in minutes with kaddu (white pumpkin). This easy kaddu ki kheer recipe uses ghee, cardamom powder and saffron for extra flavorful taste and generous use of almonds adds richness. This famous Hydrabadi style kheer can be served warm or chilled as classic Indian sweet and dessert for any occasion.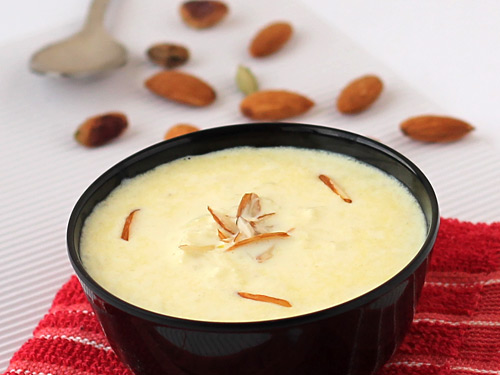 Preparation Time:
10 minutes
Ingredients:
1¼ cups peeled and grated White Pumpkin
2 cups Full Fat Milk
1 tablespoon Ghee (clarified Butter)
4 tablespoons Sugar
1/4 teaspoon Cardamom Powder (Elaichi)
5-6 Saffron strands (kesar)
3-4 Almonds, thinly sliced
Directions:
Squeeze out excess water from the grated pumpkin.

Heat ghee in a non-stick pan or heavy bottomed pan and add grated pumpkin.

Sauté it over low flame until raw smell goes off and almost all moisture is absorbed or for around 6-8 minutes.

Add milk, stir well and cook until it turns soft or for around 8-10 minutes. Stir occasionally in between.

Add sugar, saffron strands and cardamom powder and stir to dissolve sugar.

Cook until mixture turns slightly thick for approx. 4-5 minutes and turn off the flame.

Let it cool at room temperature. Kaddu ka kheer is ready for serving. Garnish it with almonds and serve it warm or chilled as you like it.
Tips and Variations:
Use ripe kaddu for making its kheer. Add sugar according to your taste to make it more or less sweet.
Add 2 tablespoons condensed milk in step-5 to get a creamy texture. If you are using condensed milk, then reduce sugar quantity to 2 tablespoons.
Serving Ideas:
Serve it as a dessert for a sweet ending to your lunch or dinner.
Other Step by Step Recipes
---
11 Comments
---
Mar 30, 2018 by Tanzeela
I made this and came out amazing...I also add some khoya in this... Everyone loved this..

And I love food viva... everything is explained very clearly...way to go..

---
Mar 09, 2017 by Gumpini SREENIVASA rao
Simply superb, yummy dish.
Thanks a lot.

---
Jan 06, 2017 by Manasa Santhosh Botsa
Hi,

I was trying to make kaddu Ka kheer, but my milk broke (curdled). Pls suggest!

Response: Cook the kaddu properly (until almost moisture evaporates) to prevent the milk from curdling.
---
Aug 23, 2016 by Fathima ayub khan
I loved it !! Yesterday, I checked this recipe and made everyone loved it. It's easy and tasty.
I used walnut, cashew nuts, almonds to garnish.

---
Sep 14, 2015 by Rachana
All the recipe given in this are explained so simple that anyone can understand. I tried 'kaddu ki kheer' yesterday. It was just awesome.. so Delicious. My husband liked it so much. Thank you Food Viva.... so nice app for learners...Thanks again.. Today I am going to make bhindi fry...

---
Jul 21, 2015 by REINALDO
This is a really good recipe please try it..

---
Nov 08, 2014 by Nazia Wattoo
I tried this kheer and it's delicious.

---
Aug 14, 2014 by puhpa saragara
I tried the recipe and I loved it.

---
Apr 12, 2014 by Sam
I tried Kaddu ka Halwa it\'s Awesome....

---
Jul 17, 2013 by DO_PAL
thank you for recipe... i will try it this ramadan :)

---
Jun 09, 2013 by ayesha amreen
its really a simple and good dish....

---