Moong Dal (yellow dal) is a healthy Indian comfort food prepared from yellow split lentil (green split gram without skin) and many spices. It is rich in protein and a staple food in India and main source of protein for vegetarians. Serve it with rice and roti for healthy wholesome meal.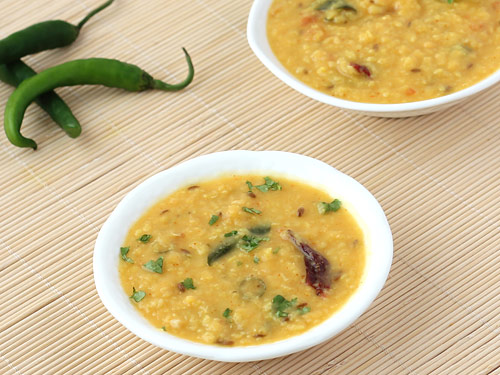 Preparation Time:
30 minutes
Ingredients:
1/2 cup Moong Dal (split green grams without skin)
2 tablespoons Cooking Oil
1 teaspoon Cumin Seeds
3-4 Garlic cloves, crushed
2 Green Chillies, finely chopped
1 Dry Red Chilli, broken into two pieces
1/2 teaspoon Ginger, grated
4-5 Curry Leaves
1/2 Tomato, diced
1/4 teaspoon Turmeric Powder
1/2 teaspoon Red Chilli Powder
1 teaspoon Coriander Powder, optional
1½ teaspoons Lemon juice
1½ cups Water
1 tablespoon Coriander Leaves (chopped)
Salt
Directions:
Wash moong dal in water. Soak it in water for 30 minutes.

After 30 minutes, drain it.

Transfer it to a pressure cooker (3-litre capacity). Add 1½ cups water, turmeric powder and salt. Close the lid and pressure cook it on medium flame for 2 whistles.

Turn off the flame; remove the lid after pressure comes down naturally.

Heat cooking oil in a small pan for sautéing. Add cumin seeds and when they begin to crackle, add crushed garlic, chopped green chillies, dry red chilli, grated ginger and curry leaves. Sauté them for 30 seconds.

Add diced tomato and cook for a minute. Add and mix red chilli powder and coriander powder.

Take it away from flame and pour it over cooked dal. Taste for salt and add more if required.

Add lemon juice and 1/3 cup water, mix well and boil for 2-3 minutes.

Turn off the flame and transfer it to serving bowl. Garnish yellow moong ki dal with chopped coriander leaves and serve with steamed rice or plain paratha.
Tips and Variations:
If you are in hurry, then you can skip step-1 of soaking dal in water; add 2 cups water in step-3 and pressure cook it for 3 whistles.
If you like it to be thin and watery, then add 1 cup additional water before adding the tempering and boil for few minutes.
You can use less oil (only 1 teaspoon oil) for tempering to reduce its calorie count.
To cook dal using pan instead of pressure cooker in step-3 and step-4 (in above recipe), follow the given steps. Remaining steps are same as given above.

Pour 2 cups water in a saucepan or deep kadai. Add (soaked and drained) dal, salt and turmeric powder in it.
Boil it on low flame until dal is cooked. Stir in between occasionally to prevent sticking. To check whether dal is cooked or not, take few grains of it and try to mash them. If they can be mashed easily, then it is cooked.
Serving Ideas:
Serve it with rice, curry, roti and papad for healthy wholesome meal.
Other Step by Step Recipes
---
4 Comments
---
Mar 22, 2018 by Debbi
What does 2 whistles mean? The flavors were delicious but I obviously overcooked the beans as they were gluey.

Response: Two whistles mean you need to cook the beans in pressure cooker for two whistles.
---
Feb 21, 2018 by Garvita
thanks so much. it helped me a lot. better than the youtube videos

---
Jun 28, 2017 by Payal
Praise the lord,
Thank u very much for the receipies and they are very easy to understand which makes me happy to cook and mam I am searching for moong dal ka halwa but I don't get it, will u plz tell me where it is?
god bless u...

Response: Hello Payal, we haven't posted the recipe of "moong dal ka halwa" yet but we will definitely try to upload it soon.
---
Mar 14, 2016 by Reebu Iype
Hi, Thanks for this recipe.
In the method, you have asked to add red chilli powder and coriander powder but in the ingredients you have not mentioned how much coriander powder to add. Can you kindly let me know how much should I add?
Thank you & best regards.

Response: Thank you Reebu for pointing out the mistake. Add 1 teaspoon coriander powder. I have updated the recipe now.
---