Gujarati Dal is a healthy dish prepared from tuvar dal (pigeon pea) and many Indian spices. In Gujarati cuisine, it is a part of the everyday meal and is mild sweet and sour compared with any other Indian dals. Learn how to make authentic Gujarati style daal for lunch with this easy recipe.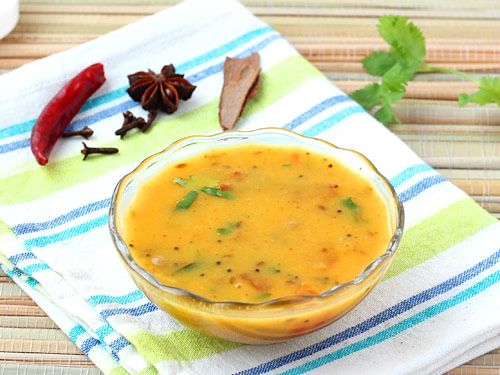 Preparation Time:
5 Minutes.
Cooking Time:
25 Minutes.
Ingredients:
1/3 cup Tuvar Dal (pigeon pea)
1/4 teaspoon Fenugreek Seeds
1/2 teaspoon Mustard Seeds
1 Cinnamon stick, broken into 2-pieces
2-3 Cloves
1 Star Anise, optional (badiya)
1/2 teaspoon Cumin Seeds
1 pinch Asafoetida (Hing)
1 Dry Red Chilli, halved
1 teaspoon Ginger (grated)
1 Green Chilli, finely chopped
1/2 medium size Tomato, finely chopped
5-6 Curry Leaves
1/4 teaspoon Turmeric Powder (Haldi)
1/2 teaspoon Red Chilli Powder (Lal Mirch)
2 teaspoons Lemon Juice
2½ teaspoons Sugar
Salt
1 tablespoon Cooking Oil
2 tablespoons finely chopped Coriander Leaves
Water
Directions:
Wash tuvar dal in hot water 2-3 times. Drain and transfer to steel or aluminum pressure cooker (3-litre capacity).

Add 1 cup water and salt and pressure cook on low to medium flame for 3-4 whistles. (Dal should become smooth and soft after pressure cooking)

When dal is hot, blend it using a hand held blender until smooth puree. Add 1 cup water in puree and blend again.

Heat oil in a pan or kadai over medium flame. Add fenugreek seeds and mustard seeds. When seeds begin to crackle, add cloves, cinnamon, cumin seeds, star anise and a pinch of hing (asafoetida).

When cloves begin to crackle, add dry red chilli, grated ginger, chopped green chilli, chopped tomato and curry leaves.

Stir-fry for few seconds and then pour pureed dal in a pan.

Add sugar, lemon juice, red chilli powder and turmeric powder, mix and bring it to boil. Cook for 6-8 minutes over medium flame.

Turn off the flame and transfer it to serving bowl. Garnish with chopped coriander leaves and serve with steamed rice and papad.
Tips and Variations:
Add less water to make it thick and more water to make it diluted.
Add sugar and lime juice according to your taste to make it more tangy.
Add some raw groundnuts while boiling to make it more tasty.
Soak dal for 20 minutes in hot water before cooking to cook faster.
You can use less oil (only 1 teaspoon oil) for tempering, if you are health conscious.
Taste:
Sour, mild sweet and mild spicy
Serving Ideas:
Serve Gujarati tuvar dal with steamed rice, potato curry, phulka roti, buttermilk, boondi raita and papad in lunch.
Other Step by Step Recipes
---
7 Comments
---
Sep 24, 2017 by Asha
Excellent taste! I used brown sugar instead of sugar.
Thank you!

---
Feb 17, 2017 by Amit bavaliya
Very very tasty. Thank you very much.

---
Feb 06, 2017 by JX
Is tuvar dal the same as toor dal?

Response: yes, both are same.
---
Jun 19, 2015 by Pooja jay Wadhwani
I am Sindhi but I like Gujarati dal very much. Thanks for recipe

---
Jun 18, 2014 by Zarine
For Gujarati dal, we need a sweet and mildly sour taste. You can add jaggery (Gud)and also tamarind water.

Response: Yes, you can add jaggery in place of sugar and tamarind water in place of fresh lemon juice in this recipe.
---
Mar 04, 2014 by savi
please post gujarathi recipes especially handavo ..

Response: Hi Savi, we will definitely post some more gujarati food recipes.
---
Jul 14, 2013 by Johannes
There is star anise on every picture after 3, right?

Response: Yes, it's a star anise.
---