Veg Kolhapuri, a mixed vegetable curry with thick and spicy coconut based gravy, is a popular dish of Maharashtrian cuisine and is often found in almost all north Indian restaurant menus. Kolhapur is famous for growing and farming of hot red chillis and this curry lives up to its name as it has very aromatic and spicy flavor that it gets from a specially blended curry masala powder. This Veg Kolhapuri recipe's unique process of first preparing Kolhapuri curry masala with dry roasted red chillis, coconut and few other spices and then cooking boiled/steamed mixed vegetables like French beans, carrot, potato, green peas, capsicum, tomato, onion etc, with it in milk gives it an authentic flavor, taste and texture. The step by step photos, detailed directions and tips given in this recipe makes preparing it at home super easy and allows you to customize it to your liking.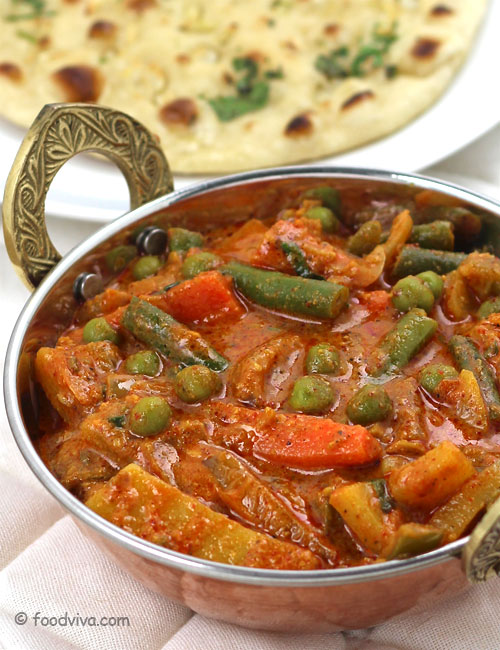 Preparation Time:
 20 minutes
Ingredients for Masala:
1/3 cup Dry Coconut, grated or thinly sliced
1 teaspoon Dry Coriander Seeds
2 Dry Kashmiri Red Chilli* (or less)
1 teaspoon Poppy Seeds (or watermelon seeds or 3 cashew nuts)
1½ teaspoons Sesame Seeds (til)
1/2 inch piece of Cinnamon
2 Cloves
3 Black peppercorns, optional
Seeds of 1/2 Black Cardamom (or 1 green cardamom)
Ingredients for Sabji:
1/3 cup Potato, cut lengthwise
1/3 cup French Beans, cut into long pieces
1/3 cup Green Peas (fresh or frozen)
1/3 cup Carrot, cut lengthwise
1/3 cup Capsicum, cut lengthwise
1/4 teaspoon Fennel Seeds (saunf)
1 large Onion, sliced (approx. 1/2 cup)
1 teaspoon Ginger Garlic Paste
1 medium Tomato, finely chopped (approx. 1/3 cup)
1/4 teaspoon Turmeric Powder
Salt to taste
1/3 cup Milk, optional (or 1/3 cup water)
1/3 cup Water
2 tablespoons Oil
2 tablespoons finely chopped Coriander Leaves, for garnishing
Note:
This curry tastes very spicy. If you don't want it to be spicy then add only 1/2 dry Red Kashmiri chilli instead of 2 chilies or just skip adding it or add red chilli powder. Add red chilli powder as per your taste along with turmeric powder in step-7.
Directions:
Dry roast all ingredients listed in masala section above (coconut, dry coriander seeds, dry kashmiri red chilli, poppy seeds, sesame seeds, cinnamon, cloves, black peppercorns and black cardamom seeds) in a pan until masala releases nice aroma; it will take around 1-2 minutes.

Transfer them to a plate and let them cool at room temperature.

Add roasted spices in a small jar of a mixer grinder and grind until smooth powder.

Cut all the vegetables lengthwise. Boil potato, french beans, carrot and green peas in salted water until 90% cooked. They should be crunchy and not mushy after cooking. It will take around 7-8 minutes. (You can also steam cook them instead of boiling them in water)

Heat 2 tablespoons oil in a pan over medium flame. Add fennel seeds and sauté for 15 seconds. Add sliced onion and sauté until it turns translucent. Add ginger-garlic paste. Sauté for a minute. Add sliced capsicum, chopped tomato and salt.

Sauté until tomatoes turn soft. It will take around 3-4 minutes.

Add masala powder (prepared in step-3) and turmeric powder.

Mix well and cook for a minute.

Add steamed/boiled vegetables (don't add water). If you have not added salt while steaming/boiling veggies, add salt to taste. We have already added salt once in step-5, so add salt according to it.

Stir and cook for 2-minutes.

Add 1/3 cup milk and 1/3 cup water (or use the water drained from boiled vegetables).

Mix well.

Cook until you get the desired consistency of gravy or for around 4-5 minutes. Turn off the flame and garnish Veg Kolhapuri Sabzi with fresh coriander leaves.
Tips and Variations:
Add salt while steaming or boiling veggies. This enhances the taste of the curry as saltiness goes deep inside veggies.
Add only 1-dry red chilli if you are using any other type of dry red chilli instead of Kashmiri red chilli.
Use 1-teaspoon of watermelon seeds (magajtari seeds) or 3-4 cashew nuts as a replacement of poppy seeds if they are not available.
Add paneer and vegetables like cauliflower, ash gourd (white pumpkin), broccoli, etc. for variation in taste and texture.
Taste:
Very Spicy with mild coconut flavor
Serving Ideas:
Serve veg kolhapuri with
butter garlic naan
, sliced onion salad and a glass of lassi in lunch or dinner. It can also be served with phulka roti, chapatti or
paratha
.
Other Step by Step Recipes
---
9 Comments
---
Jan 27, 2018 by Umadevi
Easy to make thank you

---
Jan 18, 2018 by Deepali
Came out delicious...kinda mk it dry...is it possible to upload the pic?

---
Nov 23, 2017 by Dev sharma
Awesome dishes on your website. Thanks to u.

---
Oct 04, 2017 by Vivek
It's yummy, I tried today... Thanks for the brief description.

---
Sep 25, 2017 by Sadrudin Lalji
It self looks mouth wartering. Must be super. Shall try soon and comments further the turn out. Thanks for the tasty recipe.

---
Aug 14, 2017 by Prasad
Hi,
Nice recipe !

1)May we know what's the alternative to milk ?
(not that I am vegan, we do love milk; just to know how it'd taste when we don't have milk)
2)Would it still be the same, or taste hotter n spicier ?
3)can we use cream in place of milk ?


Thank you !

Regards !!

Response: Hello Prasad, milk is added to make the gravy creamy. If it is not available, you can use fresh cream as an alternative or just skip adding it.
---
Jun 16, 2017 by Natasha
Hi. Is there any replacement of coconut if someone can't have coconut.

Response: Hello Natasha, you can add same amount of cashew nuts or almonds instead of coconut. It will taste good but not the same.
---
Sep 19, 2016 by Padma Chauhan
Very Good recipe for daily cooking.

---
Aug 10, 2016 by Nivanshi Saxena
Is there any replacement for dry coconut?

Response: Hello Nivanshi, you can use the same amount of fresh coconut instead of it.
---