This potato curry recipe uses baby potatoes to prepare visually appealing and tasty curry. In addition to this, the tomato puree adds nice tang of tomato and color too. Learn how to make mouth watering spicy potato curry with baby potatoes with this easy recipe.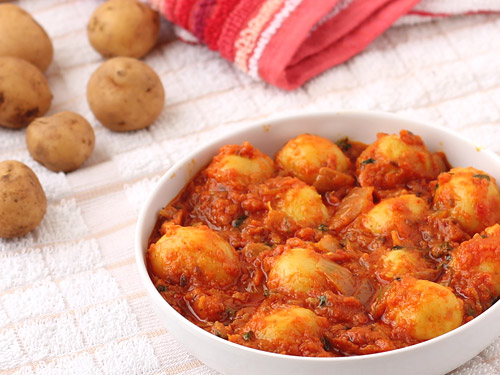 Preparation Time:
10 minutes
Ingredients:
12 Baby Potatoes, boiled in salted water
3 medium Tomatoes
1 tablespoon Roasted Coriander Seeds
1/2 teaspoon Cumin Seeds (jeera)
1 small piece of Cinnamon Stick
2 small pieces of Bay Leaf
1/3 teaspoon grated Ginger
1 Green Chilli, finely chopped
1 large Onion, finely chopped
1 teaspoon Red Chilli Powder
1/4 teaspoon Turmeric Powder (haldi)
1/3 teaspoon Garam Masala Powder
1 teaspoon Kasuri Methi (crushed)
1/2 teaspoon Sugar
Salt
3½ tablespoons Cooking Oil
Directions:
Do not choose sour tomatoes. Blanch tomatoes (soak them in boiling water for 7-8 minutes, drain and peel them) and crush them with roasted coriander seeds in a food processor or blender and make a smooth tomato puree.

Heat 1-tablespoon oil in a pan or kadai. Shallow fry boiled potatoes until they turn slightly light brown. Transfer them to a plate and keep aside.

Heat remaining 2½ tablespoons oil in same pan over medium flame and add cumin seeds, cinnamon and bay leaves. When cinnamon and cloves begin to crackle, add chopped onion, chopped green chilli and grated ginger. Stir to mix well and sauté until onion's color changes to light brown and oil starts to separate from it. Make sure to sauté over low to medium heat.

Add tomato puree (prepared in step-1), sugar, turmeric powder and red chilli powder, mix well.

Cook until oil starts to separate or for approx. 4-5 minutes. Stir in between occasionally.

Add shallow fried potatoes, crushed kasuri methi, garam masala powder and salt (only for crushed tomatoes) and mix.

Mix and cook for 2-minutes.

Add 3-tablespoons water.

Cook for 2-3 minutes and turn off flame.

Transfer potato curry to a serving bowl and serve hot.
Tips and Variations:
Add and mix 2-tablespoons fresh cream in step-8 to reduce the sour taste of curry.
Add salt while boiling potatoes to have evenly salted taste. This makes a big difference to over all taste of the curry.
Use large boiled potatoes (cut into cubes) in place of baby potatoes if later are not available.
Add 5-6 curry leaves for a nice flavor in above recipe. Add them during step-5 mentioned above.
Other Step by Step Recipes
---
9 Comments
---
Dec 20, 2017 by Amrita lohani
Delicious... I will try to make ur sabzi and curry recipes.

---
Jun 10, 2017 by Cory
These were great I haven't made many dishes inspired by Indian cuisine but I certainly will again these potatoes were phenomenal and approved by my mother success!

---
May 17, 2016 by Parul shrama
Superb. I will definitely try this.

---
Mar 29, 2016 by Amit Singh
Gr8 ...superb taste ..I tried and now I can challenge my loving mate.

---
Aug 29, 2015 by Lara
The best curry I have ever made. You are the best cook ever. Thank you very much for the month watering recepies. Happy cooking ????

---
Jul 30, 2015 by Satvir
All dishes are very well explained. It's really very helpful. :) :)

---
May 09, 2015 by Chunk
All dishes are very well explained. Please tell me recipe of aloo pyaz ki sabji made from baby potatoes and baby onion. Thank you.

---
Dec 17, 2014 by Raj
Too much yummy recipe....

---
Jun 27, 2014 by ritu singh
its so yummy i like that curry and would make it.

---