This is yet another jewel in the crown of paneer curry recipes. It has smooth, creamy and mild spicy gravy compared with other paneer subzi preparations. This easy paneer pasanda recipe uses shallow fried paneer cubes and pureed onion, tomato and cashew nut paste to make a delicious curry with rich creamy gravy. Serve it with vegetable pulao or stuffed alu paratha for the best experience.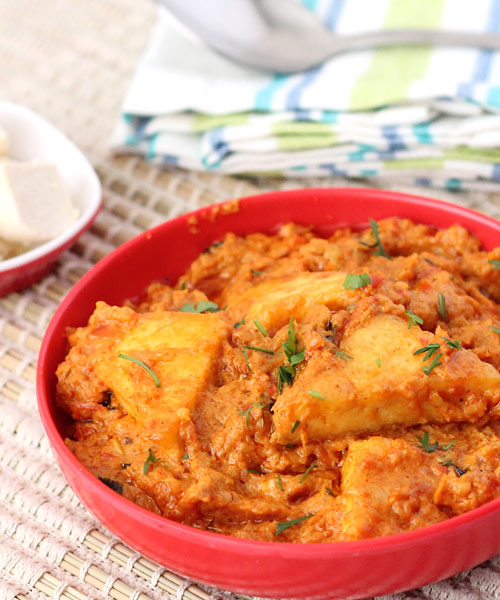 Preparation Time:
15 minutes
Ingredients:
250 gms (1/2 lb) Paneer (cottage cheese)
3 medium Tomatoes, chopped
2 medium Onions
6-8 Cashew Nuts
1/2-inch Ginger
4-5 Garlic cloves
1 Bay Leaf
2 Black Cardamoms
1 Green Chilli, chopped
1/2 teaspoon Kasuri Methi
1/4 teaspoon Garam Masala
1/4 teaspoon Turmeric Powder
1/2 teaspoon Red Chilli Powder
1 teaspoon Coriander-Cumin Powder
1/2 cup Fresh Cream
1/2 cup Water
2½ tablespoons + 1 tablespoon Oil
2 tablespoons Fresh Coriander Leaves
Salt
Directions:
Grind raw cashew nuts in the small jar of a grinder until smooth powder and mix with 1½ tablespoons water to make cashew nut paste. Crush ginger, garlic and green chilli in the same jar of grinder to make ginger-garlic-chilli paste.

Blanch the onions

and make onion puree. (Cut onion into big pieces and cook in hot water for 4-5 minutes. Drain water and crush onion in a grinder to make onion puree.) Make tomato puree by crushing tomatoes in the small jar of grinder.

Cut paneer into 2-inch squares (1/4 inch thick). Cut each square diagonally into two triangles. Heat 2½ tablespoons oil in a pan over medium flame. Shallow fry paneer cubes until its edges become light brown. Drain them and place them on paper napkin to absorb excess oil.

Heat remaining 1-tablespoon oil in the same pan over medium flame. Add ginger-garlic-chilli paste, bay leaf and cardamom in heated oil, sauté for few seconds.

Add onion puree (prepared in step 1) and sauté until it turns light brown and oil starts to separate, approx. 2-3 minutes.

Add tomato puree and sauté until oil starts to separate from sides; it takes approx. 1 to 2 minutes.

Add cashew nut paste and sauté for 1 to 2 minutes.

Add turmeric powder, red chilli powder, garam masala, cumin-coriander powder and salt. Mix well and cook for a minute. Add 3/4 cup water.

Bring mixture to a boil. When it starts boiling, let it cook for 4 to 5 minutes. Add kasuri methi and shallow fried paneer cubes.

Mix well and cook for 2 minutes.

Add fresh cream, mix well and cook for 2 minutes.

Turn off the flame and let curry stand for 5 minutes.

Transfer prepared paneer pasanda in a serving bowl and garnish with green coriander leaves.
Tips and Variations:
You can also cut paneer into cubes instead of triangles.
Cashew nuts paste gives thick and creamy texture to the gravy. You can replace it with poppy seed paste (soak poppy seeds in water and crush them to make a paste).
Use grated or finely chopped onion instead of its puree to get a different texture.
Add 1/2 cup boiled mutter or shallow fried capsicum pieces in step-9 to make best paneer pasanda curry with gravy.
Taste:
Medium spicy and creamy
Serving Ideas:
Serve it with masala puri or with
onion paratha
. It makes a wholesome meal when served with masala kulcha, a glass of mango lassi and
jeera rice
.
Other Step by Step Recipes
---
19 Comments
---
Apr 10, 2016 by Chitra
Wonderful recipe. came out very well. Thank you for the step by step instruction. On the whole my entire family liked it.

---
Aug 24, 2015 by rachna
i like it's taste. Its very delicious......

---
Jun 15, 2015 by Nair Vinukrishnan
Simple to prepare and outstanding in taste. I have made this at least 5 times.

Response: Thank you for trying the recipe and I'm glad to hear that you liked it so much.
---
May 02, 2015 by Ms. Palak Nathwani
Thank you so much for mouth watering dishes presented on website, it's helping us to be master chef at home.

---
Jan 30, 2015 by Parmar premila
I like this recipe, too much thanks.

---
Jan 24, 2015 by Deepanjali Kesarwani
Very tasty. I had tried this, l just took some of the changes like to reduce sour taste of tomato I had boiled those tomatoes, as I like more sweet I had added little bit of sugar and added cashews in just doubled quantity.

---
Jan 22, 2015 by Namita
I tried the recipe and it was awesome, everyone loved it....thank you so much.

---
Jan 10, 2015 by Nisha
It's looking tasty after reading, let see how it comes after cooking.

---
Nov 22, 2014 by sana sami
Hi, I was looking website for all kinds of food but seriously, your site is awesome. Thanks for your lovely dishes, love you.

---
Nov 06, 2014 by Purnima
I love to cook and I keep reading so many recipes on so many websites, but yours are really awesome recipes. I cannot wait to try out a few soon. Thanks for sharing your wonderful ideas!

---
Oct 26, 2014 by neha mehta
Hi,
Yesterday we went out for lunch to our friend place, I said I will also make one dish and believe me my dish paneer pasanda I mean your dish was rated best among all dishes, thanks for sharing.

---
Oct 22, 2014 by venkitachalam
Tried the paneer pasanda recipe. It came out really well and was very tasty. Thank you.

---
Aug 13, 2014 by Arpita Patel
I was looking website for all kind food, and I found this really awesome website. Few days ago I tried dum aloo and it was really good.
Today I tried Paneer Pasanda and it came out really good .. really easy to prepare and cook ..

thanks a lot.

---
Jul 17, 2014 by shilpa
i m shortly going to be married. my in laws are fond of eating spicy n tasty dishes. my mother in law and my sister in law cooks very well. i m noting in front of them. n your tips really help me to feel confident. thanks a lottttt. but plz tel me what magaj masala means veg only?

Response: Hi shilpa, magaj tari seeds (magaj seeds) means husked watermelon seeds (white in color), they are generally used in the paste form to thicken the gravy in most of the punjabi curry recipes.
---
May 27, 2014 by rajni gulati
Hi today I tried paneer jalfrezi.belive me it turned out awsome.it was really delicious.

---
May 26, 2014 by priti.pradhan
I had guests at my home yesterday......i was completely confused on what to cook and then I came across your Paneer Pasanda recipe......believe me it turned out ausome....everybody just loved it.....thank you so very muchhhhhhhhhhh

---
Mar 25, 2014 by Aarya
luks rllyyy delicious...
I'll try it..

---
Nov 24, 2013 by Gayathri
Hi,

This came out absolutely tasty! I didn\'t add cream to keep it low fat; even without that it was so yummy!!!

---
Sep 05, 2012 by veena
Very nice dish.. Very colorful too

---