Protein rich, low fat, soft and silky paneer cubes cooked in a spicy tomato and fresh cream gravy makes a delicious paneer lababdar. The butter sautéed onion and various other spices cooked in tangy tomato gravy compliments the taste of paneer and makes it one of the best curry recipes ever. Serve it with onion paratha or aloo paratha and glass of sweet lassi for complete Punjabi food experience.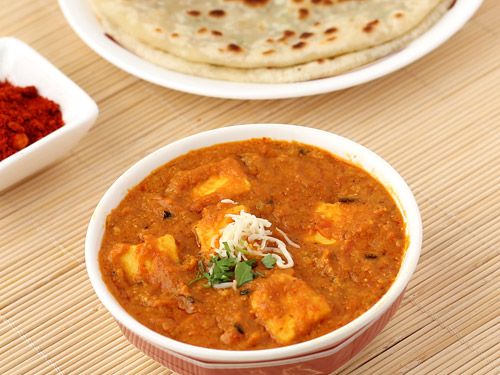 Preparation Time:
15 minutes
Ingredients:
250 gms Paneer (cottage cheese)
3 medium Tomatoes, finely chopped
10 Cashew Nuts, soaked in water for 15-20 minutes
1 Green Cardamom (elaichi)
1 small piece of Cinnamon Stick
2-3 Green Chilies, seeded and chopped
1 medium Onion, finely chopped
1 teaspoon finely chopped Ginger
5 Garlic Cloves, finely chopped
1/2 piece of Bay Leaf
1/4 teaspoon Turmeric Powder
1/2 teaspoon Red Chili Powder
1/4 teaspoon Garam Masala Powder
2 teaspoons Coriander Powder
1-2 teaspoons Kasuri Methi
3 tablespoons Cooking Oil or Butter
2 tablespoons + 3/4 cup Water
Salt to taste
2 tablespoon finely chopped Coriander Leaves, for garnishing
Directions:
Cut paneer into 1-inch cubes. Grind soaked cashew nuts, small piece of cinnamon and green cardamom with 2-tablespoons water into smooth paste.

Heat butter or oil in a kadai (or pan) over medium flame. Add chopped onion and bay leaf and sauté until onion becomes light brown. Add ginger, garlic and green chilies and sauté for approx. 1-minute.

Add chopped tomatoes and cook over medium flame until oil starts to separate and tomatoes turn tender or for around 3-4 minutes.

Takeaway kadai from the stove. Takeout and discard bay leaf from kadai. Let mixture cool for 5-minutes at room temperature. Transfer all contents to mixer-grinder jar, grind or blend into a smooth puree and transfer to a same kadai.

Add cashew nuts paste, red chili powder, garam masala, coriander powder, turmeric powder and salt.

Stir and cook for 3-minutes.

Add 3/4 cup water and bring it to boil. Reduce flame to low and cook for 3-minutes.

Add paneer cubes and kasuri methi.

Cook for 3-minutes or until curry starts to thicken. Stir in between occasionally to prevent sticking.

Turn off flame and transfer prepared curry to a serving bowl. Garnish it with coriander leaves and serve.
Tips and Variations:
To give an extra creamy texture and taste to the paneer gravy, add 1/4-cup fresh cream in step-8.
Serving Ideas:
Serve it as a main curry dish in lunch or dinner with chapati or butter naan. It also tastes well with steamed rice and papad.
Other Step by Step Recipes
---
12 Comments
---
Sep 29, 2017 by Dr Vaishali Khanna Sankhayan
Good recipe. Thanks for sharing this with us.

---
Sep 09, 2016 by Hiba Haseeb
Thanks for the delicious recipe.

---
Dec 27, 2015 by Deebika
What is kasuri methi? It is compulsary?

Response: Kasuri methi is a hindi name of dried fenugreek leaves. It has a specific aroma and is added in most of the punjabi curries to get specific flavor. It is available in most of the Indian grocery stores. If it is not available, you can skip it.
---
Oct 20, 2015 by Shoeb Shaikh
Can we use peanuts instead of cashewnuts?

Response: You cannot use peanuts but you can use almonds or watermelon seeds (magajtari) or poppy seeds (soaked in hot water for 30 minutes) instead of cashew nuts.
---
Aug 23, 2015 by Shadab
Turned out yummy. Very good and easy recipe.

---
Aug 23, 2015 by shadab
Turned out yummy. Very good recipe

---
Jan 27, 2015 by Nahid Sami
Very simple but exquisite. Every one liked it.

---
Jan 10, 2015 by Sarika
Quick,easy and delicious recipes.

---
Dec 01, 2014 by Gandeep Singh
Hi,
I just made this recipe. This is the best dish I have ever make, 5 Star recipe.
Ginny

---
Jul 19, 2014 by Rahul
I tried a few recipes like paneer labbabdar, butter paneer & bhindi masala. These turned out awesome. Like the step by step detailing. My children love paneer & thanks to foodviva.

---
Jul 03, 2014 by neeru
The recipes given are really described well and an easy manner...love to cook the recpies given!

---
Jun 30, 2014 by pranav
I am foodi and love all the recepies given here.

Thank you....

Pranav

---