This spicy Indian curry of Mughlai cuisine is a classic dinner recipe that has its gravy made from curd, coconut and cashew nuts. This easy paneer korma recipe also uses poppy seeds, onion, ginger and other Indian curry spices to give it spicy yet delectable touch. It is one of the best North Indian dishes that can be enjoyed with any Indian bread or various rice preparations.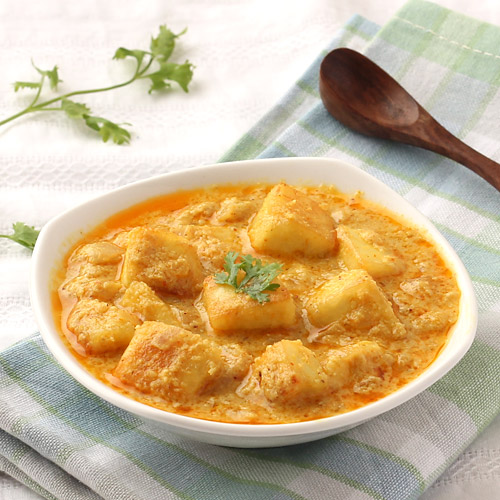 Preparation Time:
10 minutes
Ingredients:
1 cup Paneer (cottage cheese), cubed into 1½-inch pieces
1 medium Onion, finely chopped or grated
1/2 cup Curd (yogurt) (not sour)
1/4 cup fresh or dry grated Coconut
1/2 teaspoon grated Ginger
1 Green Chilli, seeded and chopped
8 Cashew Nuts
1 teaspoon Poppy Seeds (khus khus), optional (or cashew nuts)
1 small piece of Bay Leaf
1 Green Cardamom
2-3 Black Peppercorns
1/2 teaspoon Red Chilli Powder
1/4 teaspoon Turmeric Powder
1 teaspoon Coriander Powder
1 teaspoon Sugar
1½ tablespoons Cooking Oil
2 tablespoons finely chopped Coriander Leaves
Salt to taste
3/4 cup Water
Directions:
Add yogurt, coconut, ginger, green chilli, cashew nuts and poppy seeds in a small chutney jar of the grinder.

Grind them to make a thick paste. Transfer it to a small bowl and keep aside until required.

Heat 1-tablespoon oil in a non-stick pan or heavy based pan (kadai) over medium flame. Add paneer cubes and shallow fry them until light brown. Transfer them to a plate.

Heat remaining 1/2 tablespoon oil in the same pan over medium flame. Add bay leaf, green cardamom and black peppercorns, sauté them for 10-20 seconds. Add chopped onion and sauté until light brown. It will take approx. 1½-2 minutes.

Add red chilli powder, turmeric powder, coriander powder and mix well.

Add yogurt-coconut-cashew nut paste (prepared in step-2), sugar and salt.

Stir well and cook for a minute.

Add 3/4 cup water and mix well. Cook for approx. 3-minutes, stir in between occasionally to prevent sticking.

Add paneer cubes.

Mix well and cook until gravy turns thick of for approx. 4-minutes. Turn off the flame and transfer curry to a serving bowl. Garnish Paneer korma with fresh coriander leaves and serve hot with

paratha

or

butter kulcha

.
Tips and Variations:
Make sure, yogurt is not sour as it makes the curry sour.
If poppy seeds are not available, replace it with watermelon seeds or simply add more cashew nuts. Poppy seeds are used for making the gravy thick and creamy.
Add 1/4 cup more water in step-9 if you like thin gravy in this north Indian dish.
If you are using frozen paneer cubes, then soak them in hot water for 10 minutes before using.
Shallow fry paneer cubes (fry until light brown) in butter or ghee (instead of oil) for nice aromatic variation.
Serving Ideas:
Paneer kurma prepared with this Mughlai recipe has a thick gravy base, which makes it suitable to be served with roti, butter naan or phulka for lunch or dinner. If you are a rice lover, you won't be disappointed when this it is served with steamed rice.
Other Step by Step Recipes
---
8 Comments
---
Jan 03, 2018 by Ahana
can I use potatoes with this recipe? plz tell me

Response: yes, you can also make this recipe with potato.
---
Oct 28, 2016 by Ramya
it was awesome. I learned something which I did not know. Thank u so much.

---
Jun 20, 2016 by Amit joshi
I like this food and it is very tasty food.

---
Mar 24, 2016 by Rupika Sharma
Awesome recipe, tried today tastes good. But the amount of curd used should be little less otherwise it becomes sour.

Response: Thank you Rupika for trying the recipe and writing the feedback.
---
Feb 27, 2016 by Balasubramaniam
Cooked myself for my family, it did come out well. Didn't get khus khus so the dish was without khus khus.
My family enjoyed this with chapati.

Response: Happy to hear that your family liked it.
---
Aug 15, 2015 by shanthi.A
Come out well. Like restaurant tasty.

---
Aug 21, 2014 by Pops
It came out very well... like in hotels !! Thank you.

---
May 02, 2014 by Kaye Brown
Great recipe thank-you. Can you please tell me if I could also use seeds from Canteloupe (Rock Melon)? I used the white watermelon seeds this time. Are there any other melon seeds we can use in Australia to substitute for the Indian muskmelon?

Response: Thanks for the feedback and asking a question. Poppy Seeds used in this recipe provides thickness, texture and also flavor to the korma. If these are not available then you can use any edible seeds (including cantaloupe seeds) as its substitute. However please note that flavor of the curry may change a bit based on the native flavor of the seeds used.
---