This is yet another Indian curry recipe wherein amount of onion used is relatively larger compared with other main ingredients. In this paneer do pyaza recipe, sliced onions are pan-fried with spices and crushed tomatoes, which compliments the soft and creamy taste of paneer. The kasuri methi brings subtle but noticeable flavor too. Whatever the occasion, pair it with any Indian bread for scrumptious meal.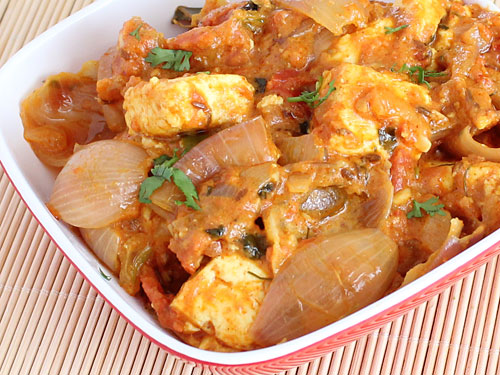 Preparation Time:
10 minutes
Ingredients:
100 gms (3 oz) Paneer (cottage cheese)
2 large Onion
1 Green Chilli, seeded and chopped
1 teaspoon Kasuri Methi (dried fenugreek leaves)
3 medium Tomatoes
1/2 teaspoon grated Ginger
2-3 cloves Garlic, crushed
1/2 teaspoon Cumin Seeds
1 Green Cardamom
1 small piece of Bay Leaf
1/8 teaspoon Turmeric Powder
1/2 teaspoon Red Chilli Powder
1 teaspoon Coriander Powder
1/2 teaspoon Garam Masala Powder
1/2 teaspoon Sugar (optional)
1 tablespoon + 2 tablespoons Oil
1 tablespoon Fresh Cream
1 tablespoon Coriander Leaves, finely chopped
Salt to taste
1/2 cup Water
Directions:
Cut paneer into 1-inch cubes. Finely chop 1 tomato and crush remaining 2 tomatoes into puree.

Finely chop 1 onion. Cut remaining onion into 4 equal parts and separate its layers. Heat 1 tablespoon oil in a normal or non-stick pan and shallow fry onion layers until light brown. Transfer them to a plate.

Heat 2 tablespoons oil in the same pan. Add cumin seeds, green cardamom and bay leaf, when they begin to sizzle, add chopped onion and sauté until light brown.

Add grated ginger, crushed garlic and green chilli; sauté for a minute.

Add crushed tomato puree and chopped tomato; sauté until oil starts to separate.

Add kasuri methi, red chilli powder, turmeric powder, coriander powder, garam masala powder, sugar and salt; mix well and cook for 1 minute.

Add paneer cubes, shallow fried onions, 1/2 cup water and cook for 3-4 minutes.

Add fresh cream, mix well and turn off the flame.

Transfer prepared sabzi to serving bowl. Garnish paneer do pyaza with fresh coriander leaves and serve hot.
Tips and Variations:
Adjust amount of red chilli powder and green chilli to make it as spicy as you like it.
Paneer do pyaza, one of the easy paneer dishes recipe, uses sugar to balance out the sour taste of tomato. You can avoid it if you do not like even a mildest hint of sweet taste in curry.
If you would like to have larger pieces of onion, then cut it into 4 parts and separate its individual layers (instead of slicing the onion) before sautéing.
Taste:
Soft and mellow paneer and onion in a spicy tomato gravy.
Serving Ideas:
Serve it with butter kulcha, onion raita and masala papad for happy meal. The semi gravy texture of this curry makes it suitable to be served with steamed rice or peas pulao as well.
Other Step by Step Recipes
---
30 Comments
---
Jun 02, 2018 by laxmi kumari
Thanks a lot. It helped me lot as I cooked paneer pyaja for the first time and your material is wonderful.

---
Sep 17, 2017 by Ashish Gupta
Thanks a lot for such a wonderful recipe. I cooked it for my mom and wife. They loved it.
I never cook, so this was a attempt for me. But you made my life easy. Thank you.

---
Jul 06, 2017 by Manisha Aggarwal
I cooked for the first time and I tried to make this recipe..and it was awesome and appreciated by all. Thank u for sharing this recipe.

---
Mar 24, 2017 by Nisha
This recipe is very tasty. . Love it. I am going to try another recipe from this blog. :)

---
Aug 09, 2016 by Rohini
Hey mam , could you please upload paneer and kofta recipie with white gravy !!

Response: Hey Rohini, I will try to put the recipe of kofta with white gravy.
---
Mar 21, 2016 by Shivani
I tried this recipe 2 days back & it turned out awesome, this was real yum. I added capsicum & beans too which gave it a flavorful taste. Thumbs up for this recipe...this is my first ever review...just couldn't resist myself...really liked it. Tastes just like market.. with goodness of home :)

Response: Thank you Shivani for trying the recipe and posting the wonderful feedback.
---
Aug 24, 2015 by Mums 'n' Babies
Yummy Recipe - full of goodness !!

---
Jul 07, 2015 by Ojhalshukla
Thank you so much for all these mouth watering recipes... Now I am going to follow your website... :)

---
Apr 20, 2015 by Deepanjali
I tried your recipe, it came out very tasty. I want a recipe of gulab jamun please upload it.

Response: Hi Deepanjali, follow the given link prepare gulab jamun from scratch.
---
Mar 16, 2015 by Smriti
Very good recipe. I tried it with mushroom instead of paneer as well. Both tasted delicious.
Thanks a ton for sharing this recipie

---
Jan 25, 2015 by Rajesh Priya
Ummmah. Tried first time paneer do pyaza. Nice taste, even we can't get such taste in restaurant.

---
Jan 20, 2015 by Barsha
I tried the recipe and it really came out awesome.It's so easy and simple that it hardly requires 10-15 mins, which goes perfectly with rotis and naans.

---
Jan 05, 2015 by visti
Kya malai ghar me banta he? kaise? uske jgah pe or kuchh daal skte he kya? Reply me plz.

Response: Hi, you can make the malai(fresh cream) at home or buy it from the grocery store (you can easily find Amul brand fresh cream in most of the grocery stores).
It is added in most of the punjabi curries to get rich creamy flavor. However, if it is not available, you can skip it. You cannot use anything else instead of malai.
To make the malai at home, follow the given directions.
1. Boil the milk and then cool it at room temperature.
2. After that, keep it in refrigerator for at least 7-8 hours, the thick layer (malai) will form on the milk surface, collect it and store it in airtight container in refrigerator. It stays good for 4-5 days.
3.To add homemade malai in the curry, beat it a little or stir it with a spoon before adding.
---
Jan 02, 2015 by Preeti
How to get fresh cream and is it necessary to add cream to the gravy?

Response: Hi Preeti, fresh cream is added in the gravy to get the creamy taste, however if it is not available then you can skip it. You can buy the fresh cream (malai) from grocery store.
---
Oct 17, 2014 by Neha
Hi, it really tastes awesome. I want to know about the ingredients if i would like to make it for a bigger gathering around 30 people.

Response: Hi Neha, if you want to make this in large quantity, I would suggest you to make this once at home and check the quantity. This recipe serves 2 people, so you can get the idea to make this for 30 people by multiplying all ingredients.
---
Sep 09, 2014 by Uma prasad
Very simple and easy recipe, everyone in my house loved it. I used milk instead of water and added bell pepper.

---
Jul 29, 2014 by Kanwarjit Singh
Tried the recipe and it came out awesome.

---
Jul 09, 2014 by Ekta priya
i have just passed 12th... besides studies, i have an interest in preparing new recepies for my family...yesterday prepared paneer dopyaza...it was appreciated by everyone in our family ...thanks for sharing this recipe with us.

---
Jul 02, 2014 by parul saxena
Is it necessary to add sugar in the gravy?????

Response: Hi parul, sugar is added to balance the sour taste of tomatoes in this recipe but if you do not like then you can omit it. In this recipe, sugar is an optional ingredient as we have mentioned in the ingredient section.
---
Jul 01, 2014 by nahid
i want do paneer dopyaza let\'s see how it is taste....

---
Jun 10, 2014 by SWATHI
i tried this and it came out very well.. thanks for the yummy recipes...

---
Jun 09, 2014 by lilly
Very tasty, thanks for sharing this recipe.
I have one doubt, here paneer is not shallow fried is it necessary or not.

Response: Hi lilly, thanks for trying the recipe. In this recipe, it is not necessary to shallow fry the paneer.
---
Jun 03, 2014 by sayali
I followed the instructions to make this and it turned out absolutely awesome! Thanks

---
Jan 26, 2014 by Tanya
Please some how include the option to know the recipe for increased serving portions. Two servings is way too less when you plan for dinners or get together.

Response: Yes, we will definitely add option to know the recipe for increased serving portion.
---
Jan 21, 2014 by Usha
Flavorful, great texture and well balanced mix of spices... Thank you for this delicious recipe! (Note: cardamoms and garam masala are missing in the 'Directions' section.)

Response: Thanks Usha for trying the recipe and informing me about missing ingredients in direction. I have updated the recipe according to it.
---
Jun 28, 2013 by sukhraj gill
i like your recipe. bhut jada vadiye. chak punjabi

---
Mar 07, 2013 by Sonam
Thanku so much for sharing this mouth watering recipie.. i just tried and it took very less time and it has same taste of a good restaurants's recipie. Thanks again.

---
Feb 07, 2013 by garima gupta
its really good recipe and good in taste

---
Dec 18, 2012 by sakshi
STEP-BY-STEP.......too good

---
Sep 06, 2012 by killo
very nice

---