This is one of the best and easy masala curry recipes wherein stir-fried capsicum pieces are cooked in onion, cashew nut, coconut, coriander seeds and tomato based delicately spicy masala gravy. Apart from normal Indian curry spices, capsicum, paneer, onion and tomato, this paneer capsicum recipe also uses kasuri methi, which adds nice subtle taste and flavor to the gravy. Make this curry at home by following our step by step photo guide and serve it with butter naan, onion raita and vegetable salad for any family occasion you want to make special.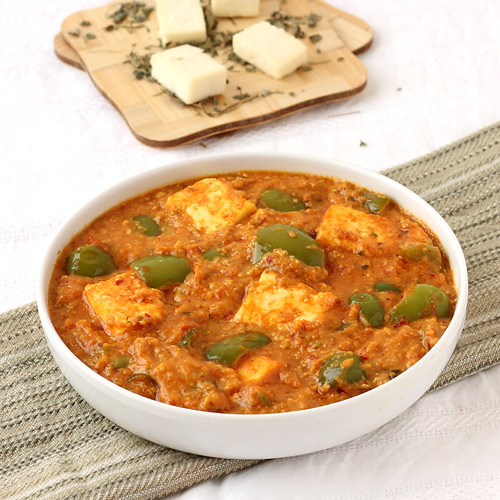 Preparation Time:
5 minutes
Ingredients:
100 gms Paneer (cottage cheese), cubed
3 medium Capsicums, cut into 1-inch square pieces, (approx. 1 कप)
2 medium Tomatoes, crushed
2 medium Onions, finely chopped
1/2 teaspoon finely chopped Ginger
1 tablespoon grated Dry or Fresh Coconut
1/2 tablespoon Dry Coriander Seeds
4 Cashew Nuts, roughly chopped
1/2 teaspoon Poppy Seeds (khus khus), optional
1 Dry Kashmiri Red Chili, halved
1/2 teaspoon Cumin Seeds
1/8 teaspoon Turmeric Powder
1/2 teaspoon Red Chili Powder
1/4 teaspoon Garam Masala Powder
3/4 cup Water
1/2 teaspoon Kasuri Methi
2 tablespoons Fresh Cream, optional
3 tablespoons Oil or Butter
1/2 teaspoon or to taste Salt
Directions:
Heat 1/2 tablespoon oil in a heavy based pan over medium flame. Add chopped capsicum and sprinkle some salt over it (salt will make them tender). Shallow fry over medium flame until tender but still crunchy or for approx. 3-4 minutes. Transfer them to plate and keep aside until needed.

Heat 1 tablespoon oil in the same pan over medium flame. Add chopped ginger, grated coconut, dry coriander seeds, cashew nuts, poppy seeds, dry kashmiri red chilli and cumin seeds and sauté for 30-40 seconds. Add chopped onion sauté until it turns light brown. Turn off the flame, transfer mixture to a bowl and let it cool for 3-4 minutes. Transfer it to a grinder jar and grind to a medium coarse paste.

Heat remaining 1½ tablespoons oil in the same pan over medium flame. When oil is medium hot, add prepared paste.

Stir-fry the paste until light brown, 3-4 minutes.

Add red chili powder, turmeric powder and mix well.

Add crushed tomato puree.

Stir fry for 3-4 minutes.

Add garam masala powder, salt and 3/4 cup water. Bring mixture to a boil over medium flame. When it starts boiling, cook it for 2-3 minutes.

Add capsicum, paneer cubes and kasuri methi and cook for 2 minutes. Stir occasionally in between.

Add fresh cream.

Mix well and turn off the flame. Transfer prepared paneer capsicum masala to a serving bowl and serve with

butter kulcha

.
Tips and Variations:
If you are using frozen paneer cubes then soak them in warm water for 10 minutes and drain before using.
Fresh cream is an optional ingredient in this curry, you can use or avoid it as per availability or preference.
Replace paneer with potato (sliced and boiled) for simple curry with gravy.
Taste:
Delicious shallow fried capsicum and paneer in a spicy and creamy gravy.
Serving Ideas:
Since it is one of the easy recipes with paneer and has onion and tomato based spicy gravy, it can be served with plain paratha, rumali roti or steamed rice at any time you like it.
Other Step by Step Recipes
---
17 Comments
---
Feb 13, 2018 by Farah
Can I replace the cream with plain yogurt? If not, please explain why. Thanks!

Response: You can not use Yogurt instead of cream. You can use 1/4 cup Milk if you don't have a cream.
---
Jul 20, 2017 by Reva
The way it appeared in the pics you have displayed I thought its gonna be tasting great.. though i'm novice cook, I tried it according to the quantities you gave. It came out awesome except for some raw tomatoey flavour at the end which I corrected by adding some more oil and dhaniya zeera powder and letting it cook for some more time. Nevertheless it is a restaurant style recipe. Thank you!

---
Apr 03, 2017 by Gayathri
Awesome taste..Loved it..Thanks a lot for this wonderful recipe.

---
Mar 12, 2017 by tanya
nice and easy .. .

---
Nov 24, 2016 by Joyeeta Roy
Can I skip onion?? Pls suggest me. In that case, other ingredients will remain same?

Response: Yes, you can skip the onion in this recipe. Just add 2-3 extra cashewnuts, other ingredients remain same.
---
May 16, 2016 by Bhumika
Awsome recipe. All family members loved it. Thanks.

---
Apr 26, 2016 by Komala
Nice and tasty all recipes of paneer.

---
Mar 08, 2016 by Shalini
Thanks for posting such a yummy dish. I am going to try it. Can we use one dollop of fresh curd instead of cream for this recipe?

Response: Hi Shalini, if you don't have fresh cream, just skip adding it or add 1/4 cup milk instead of it and cook for 2-3 minutes. Don't use fresh curd instead of fresh cream in this recipe.
---
Aug 12, 2015 by kayal
Excellent dish!!! Came out very good and yummy taste ..

---
Feb 24, 2015 by Navdeep
Thanks for such a good recipe with pictures. My husband and son liked it very much. Thanks a lot.

---
Jan 24, 2015 by Purvi
So tasty and easy to make. This is my favourite curry and made it so many times.

---
Jan 04, 2015 by Anjali
Really, I have tried it and so delicious. Thank you. Please share some recipes of paneer and if possible, please give a recipe of tawa paneer masala.

Response: Hi Anjali, we will definitely try to post the recipe of tawa panner masala very soon. You can find the more paneer recipes here on our site.
---
Nov 14, 2014 by niharika
Really yummy curry of capsicum, I like it.

---
Nov 06, 2014 by shreta
Just awesome recipe. Yummy, I like it.

---
Nov 05, 2014 by pallavideepak
It's a yummy recipe, I tried it, it was very tasty.

---
Jun 06, 2014 by A.L.V.KRISHNAN
Tried the recipe came out nice., and taste also good,same gravey I am planning to try with mixed vegitables like beans,Carrot,Cauliflower,green peas,and beetroot and potato.

Response: Thanks for trying the recipe. You can definitely try the mixed vegetables with same gravy.
---
May 31, 2014 by jayalakshmi
Wow.......soooo tasty. I tried it.
kindly keep posting with variety dishes....

---