Methi Bhaji prepared with fresh and green methi leaves is one of the simple and healthiest recipes with fenugreek. This methi sabzi recipe uses garlic and minimal number of spices that helps bring out and enhance the flavor of fenugreek. Unlike methi curry, this recipe has relatively dry texture (not completely dry though) making it suitable to be served as either main curry or as a side dish. If you are looking for Indian vegan recipes or quick Indian dinner recipes, then this is a right choice for your healthy dinner.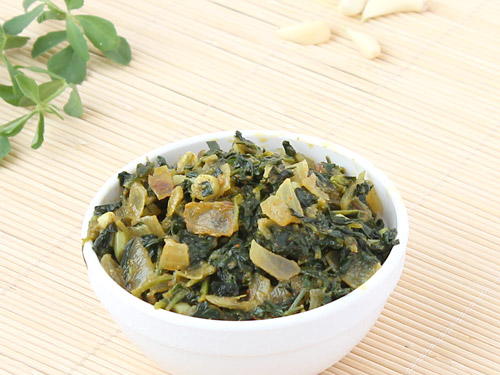 Preparation Time:
10 minutes
Ingredients:
2½ cups Fenugreek Leaves, finely chopped
4-5 cloves Garlic, finely chopped
1 small size Onion, finely chopped
1/4 teaspoon Cumin Seeds
1 pinch Asafoetida (hing)
1/2 teaspoon Red Chilli Powder
1/8 teaspoon Turmeric Powder
1 teaspoon Coriander Powder
1/2 teaspoon Lemon Juice
2 tablespoons Water
2 tablespoons Oil
Salt
Directions:
Wash chopped fenugreek leaves, drain and keep aside (wash them 2-3 times in water to remove soil or any grime it might have on its leaves).

Heat oil in a pan over medium flame. Add asafoetida and cumin seeds and sauté until cumin seeds turn light brown. Add finely chopped onion and sauté until onion turns transparent. Add finely chopped garlic and sauté until light brown for approx 20 to 30 seconds.

Add turmeric powder, red chilli powder, coriander powder and salt; mix well.

Add finely chopped and washed fenugreek leaves.

Mix well and cook over medium flame for 3 minutes or until oil starts to separate, stir occasionally in between.

Add 2 tablespoons water and lemon juice, mix well.

Cook for 2 minutes and turn off flame.

Transfer prepared curry to serving bowl.
Tips and Variations:
Add boiled and cubed potatoes in step 7 to make aloo methi dry.
Add 1/2 cup finely chopped brinjal in step 5 and cook covered for 5-7 minutes or until brinjal is cooked and then follow remaining steps.
Serving Ideas:
India being world's largest producer of fenugreek, this curry is known with multiple names across length and breadth of India and served with variety of Indian flat-breads. In Punjab, it is known as methi saag and it's typically served with makki di roti and dal tadka. Methichi bhaji and bhakri is a typical meal in rural areas of Maharashtra. Methi ni bhaji and bajra roti is a staple food in Gujarat and last but not least, methi ki sabzi and khichdi is a wholesome healthy meal in north India.
Other Step by Step Recipes
---
12 Comments
---
Mar 04, 2018 by Deepti
Oh My God, Really Awesome. I really Inspired when I read your complete Blog. Such beautiful written. Thank you So much for sharing awesome content. Keep it up

---
Jan 07, 2018 by Sana
Wow mam itz very nice thanks for simple recipie

---
Dec 03, 2016 by Aakanksha Rathore
I tried this recipe today. Very nice recipe, outcome was yummy and not at all bitter.
Thanks a lot.

---
Oct 29, 2016 by Anwar
Excellent Recipie. I tried it, it is tasty.

---
Jan 01, 2016 by Neela Deepak
I made this today.....yummmmmm

---
Jul 02, 2015 by SUMA
healthy and tasty receipe

---
May 31, 2015 by Banashree
Very easy and tasty recipe.

---
Apr 08, 2015 by R.Sivapriya
Tried this recipe today. I added potatoes too and it turned out very well. Thanks a lot for posting it.

---
Dec 19, 2014 by Madhuri
I added grated coconut at the end. Indeed, it's a very good recipe. Thank you.

---
Jun 25, 2014 by zeba
Tried it.. Tastes yum... Thanks for such a wonderful receipe...

---
Dec 08, 2013 by priyanka
Easy to cook and healthy way to add fenugreek leaves in our diet. Thanks for sharing this.

---
Feb 03, 2013 by Zinobia
I am going to try it today

---