Malai Paneer, as the name suggests, it's a paneer curry prepared in a fresh milk cream based rich and spicy gravy where almond and cashew nut paste brings in rich texture while dried fenugreek leaves bring a subtle but definite flavor. Whether you are hosting a party at home or just looking for easy recipes with paneer to have a delicious quick Indian dinner, it's a perfect choice to satisfy your craving for something spicy yet creamy.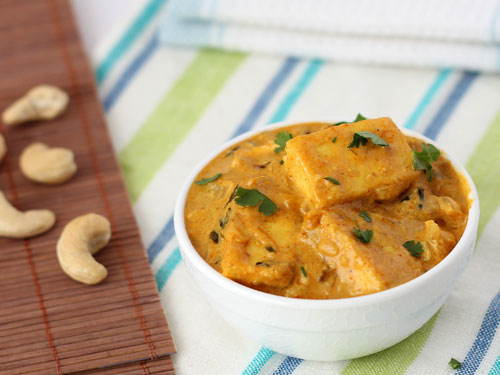 Preparation Time:
10 minutes
Ingredients:
150 gms (5 oz) Paneer (cottage cheese)
1/4 cup Malai (fresh cream)
1/2 teaspoon Kasuri Methi (Dried Fenugreek Leaves)
1 medium Onion, finely chopped
4 Almonds
4 Cashew Nuts
1/2 teaspoon grated Ginger
2-3 cloves Garlic, crushed
1/4 teaspoon Garam Masala Powder
1/8 teaspoon Turmeric Powder
1 teaspoon Red Chilli Powder
1 teaspoon Coriander Powder
2 tablespoons + 1 tablespoon Oil
Water
1 tablespoon finely chopped Coriander Leaves
Salt
Directions:
Grind cashew nuts and almonds in the small jar of a mixer grinder until smooth powder. Transfer it to a small bowl and mix with 2 tablespoons water to make a dry-fruit paste.

Cut paneer into 1.5-inch long and 0.5-inch thick strips or into 0.5-inch thick triangles. Heat 2 tablespoons oil in non-stick pan over medium flame. Shallow fry paneer triangles or strips until its edges turn light brown. Drain and transfer to a plate.

Heat remaining 1-tablespoon oil in the same pan over medium flame. Add finely chopped onion and sauté until it turns light brown. It will take approx. 1-2 minutes. Add grated ginger and crushed garlic, sauté for a minute.

Add red chilli powder, turmeric powder, coriander powder, and salt; stir and sauté for approx 30 seconds.

Add dry-fruit paste (prepared in step 1) and sauté for a minute.

Add 1/2 cup water and bring mixture to a boil.

When mixture starts boiling, reduce flame to low and add paneer, garam masala powder and dried fenugreek leaves.

Mix and cook for 3 to 4 minutes. Add 1/4 cup fresh cream over it.

Mix cream with curry and cook for a minute or little less. Do not cook for long time after adding cream because it curdles if cooked more.

Turn off the flame and transfer prepared malai paneer to a serving bowl. Garnish with fresh coriander leaves and serve hot.
Tips and Variations:
If you like more gravy, then add more water in step-6 and cook until you get desired consistency. However, make sure that paneer cubes are added only towards the end of cooking.
Add boiled green peas along with paneer in step-7 to make yummy malai peas paneer.
Do not cook for more than a minute or on high flame after adding fresh cream, otherwise cream may curdle.
Add 1-cup fresh green methi leaves in step-5 to make delicious and healthy methi malai paneer.
Taste:
Mild spicy and creamy.
Other Step by Step Recipes
---
11 Comments
---
Aug 12, 2017 by Jacob b
I'm a white American (although I can handle alot of spice), so take that as you will, but this was extremely spicy. I may have just made it wrong, added too much chilli powder, but yeah. Other than that it was very good.

Response: Thank you Jacob for trying the recipe. You can reduce the spice level by reducing the amount of red chilli powder as per your taste.
---
Jun 07, 2017 by Sakshi
Very nicely described. Thanks.

---
May 13, 2017 by Manjula
I tried 3 recipes - matar paneer, paneer makhni and malai paneer. They out fantastic. Thank you

---
Apr 10, 2017 by Deepika Ajayraj
It's very yummy and tasty...Thank you for the recipe.

---
May 09, 2016 by Khushboo Rudra
I tried it and it turned out really Awesome....
Thanks a lot

---
Sep 25, 2015 by Neha
I have tried this recipe and it came perfect like restaurant style.
Thanks a lot for recipe.

---
Aug 26, 2014 by Deepagopi
Great....yummy..... I tried this.... my kids praised a lot.... my kids asked me to prepare it weekly once... thanks a lot.

---
Aug 15, 2014 by Ranita Mukherjee
Fantastic recipe. ..tried and got compliment.

---
Apr 24, 2014 by moo
Really easy n tasty. Thanks fr d recipe.

---
Dec 09, 2013 by kirti
very yummy dish....
My siblings like it a lot...:)

---
Apr 21, 2013 by devina
very tasty dish. I eat today.

---