Kashmiri dum aloo is one of the most widely preferred north Indian curries. Baby potatoes are deep fried and then cooked in delicious gravy of curd and lots of spices like kashmiri red chillies, fennel powder, cardamom powder, cumin-coriander powder, ginger, garlic etc. Learn how to make authentic kashmiri dum aloo with this easy curry recipe with step by step photos.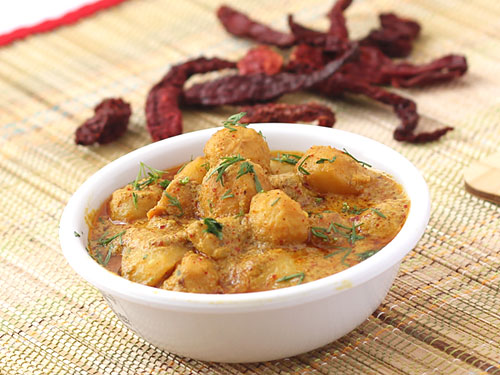 Preparation Time:
20 minutes
Ingredients:
12 small Potatoes
1½ cups Curd (yogurt) (not sour)
4 Dry Kashmiri Red Chillies, deseeded and powdered
1 teaspoon Grated Fresh Ginger (or 1/2 teaspoon Dry Ginger Powder)
1 teaspoon crushed Garlic
1 tablespoon Cashew nut Powder
1/3 teaspoon Green Cardamom Powder
1/2 teaspoon Fennel Seed Powder
1/3 teaspoon Cumin Powder
1 teaspoon Coriander Powder
1 Bay Leaf, broken into pieces
1 pinch Asafoetida
1/4 teaspoon Turmeric Powder
1/2 teaspoon Garam Masala Powder
1 tablespoon Fresh Coriander Leaves, chopped (optional)
4 tablespoons + for deep frying Cooking Oil
Salt
1/3 cup Water
Directions:
Peel small potatoes and prick them with a fork. If small potatoes are not available, then chop large potatoes into big chunks and prick them. Soak them in salted water for 15 minutes.

Heat oil in a kadai for deep frying. Drain potatoes, wipe them clean and deep-fry them over medium heat until golden brown. Drain and transfer to plate.

Mix curd, Kashmiri chilli powder, ginger, garlic, cashew nut powder, fennel seed powder, cardamom powder, cumin powder and coriander powder in a small bowl. Whisk to mix flavor of all ingredients with each other.

Heat 4 tablespoons oil in another pan. Add bay leaves and asafoetida and sauté for 30 seconds.

Add 1/3 cup water, salt to taste and turmeric powder.

Bring mixture to boil and then add spiced curd (prepared in step-3) mixture.

When it starts to boil, add fried potatoes and garam masala powder.

Cook over medium heat until potatoes absorb the gravy and oil starts to come on the surface. Turn off the heat.

Transfer Kashmiri dum aloo to serving bowl and garnish with fresh coriander leaves.
Tips and Variations:
Add chopped onion and garlic paste in step-4 for variation.
Curd must not be sour otherwise prepared curry will taste sour.
Use boiled potatoes and sauté them in 1 tablespoon oil instead of frying them for less oily dum aloo kashmiri curry.
Serving Ideas:
Serve it with butter naan or tandoori roti or plain paratha or steamed rice for a lunch or dinner.
Other Step by Step Recipes
---
9 Comments
---
Dec 09, 2017 by Gul
I made the dum alooo it was superb.

---
Oct 16, 2017 by Latha Srinivasan
I am not good in making North Indian, sabjis, especially those with paneer. I prepared the mattar paneer following the step by step recipe.I did sauté the panner a little bit and added in lukewarm water. I used frozen peas. My son had it and said that it was outstanding. Thanks a lot. I am now confident that I can prepare more dishes following your easy to make recipes which come out as good as you post them.

---
Aug 11, 2017 by Fabian Anthony
Very well described with pics, going to try it today.

---
May 24, 2017 by Anindya Basu
Tried this recipe last night and it worked really well. So much so that it became an instant hit with everyone. Thank you.

---
May 10, 2017 by Bharti
Execellent recipe. This was the first time I made dum aloo, it was so delicious my family loved it.

---
Jan 24, 2017 by Annie dey
I added peas in the 4th step along with onions and garlic...
Nice recipe. Thanks.

---
Mar 08, 2016 by Shalini
I did this recipe the other day and my family went crazy for it! Thank you so much for posting such a easy to follow recipe.

---
Oct 01, 2012 by Prashant
It is an excellent recepie and I tried this but only mistake was that in step 7, it asks to add potatoes later but it will be good to first get the spices cooked and oil seperated and then add the potatoes else it confuses the reader.

Response: Dear Prashant, thanks a lot for your valuable feedback. There are two reason why this recipe requires adding potatoes in step-7. 1) Potatoes will get sufficient time to get warm as it will get heated along with gravy. 2) Spices will start marinating the potatoes giving it fuller richer flavor. If we add potatoes after oil has started separating, there will not be sufficient time for them to get warm and absorb the flavor of spices. However, you can overcome this problem by cooking them little longer but it may skew/change the flavor of curry.
---
Sep 01, 2012 by surbhi
can we add tomatoes to this gravy

Response: Yes, you can add tomatoes for a variation in taste and texture of gravy. Add 1/2 cup tomato puree (crushed tomatoes) in step-4 and cook until oil starts to separate or for 3-4 minutes over low flame.
---