Kaju Curry – roasted cashew nuts (kaju) cooked in a tomato, onion, and spices based rich and creamy sauce, is a delicious restaurant style Vegetarian Punjabi Curry perfect for festivals like Diwali, Holi, etc., and for special occasions like birthdays and anniversaries. The gravy prepared in this kaju masala curry recipe has smooth and creamy texture and taste as that of
paneer butter masala curry
. Follow this step by step photo recipe of Kaju Masala to learn how it gets its restaurant like taste and flavor with Kasuri Methi and Cinnamon and deep luscious red color without using artificial food color with grated Beetroot.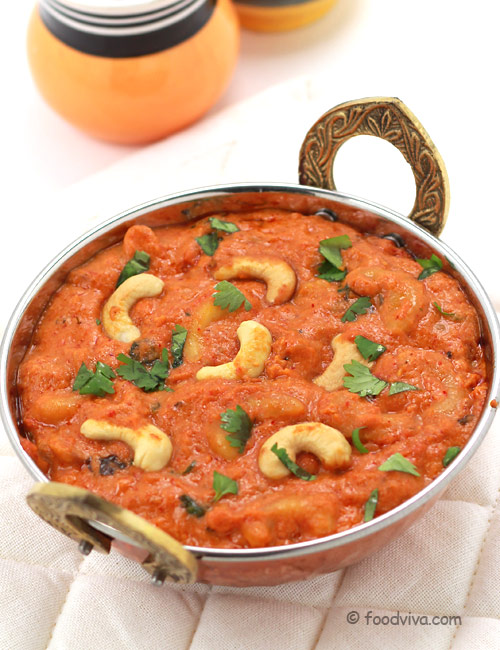 Preparation Time:
 10 minutes
Ingredients:
1 cup Cashew Nuts (halved or broken or whole)
1 large Onion, chopped (approx. 1/2 cup)
2 large Tomato, chopped (approx. 3/4 cup)
1-inch long piece of Cinnamon
1-2 small cloves of Garlic, chopped
1/2 inch piece of Ginger, chopped
1 Green Chilli, chopped
1 tablespoon grated Beetroot, optional (added to get dark red color)
1/2 teaspoon Red Chilli Powder
1 teaspoon Cumin-Coriander Powder, optional
A pinch of Turmeric Powder, optional
1/2 cup Milk (or water)
1/2 cup Water
1/2 teaspoon Kasuri Methi, (Dried Fenugreek Leaves), optional
2 tablespoons finely chopped Coriander Leaves, for garnishing
2 tablespoons Oil
Salt to taste
Directions:
Heat 1-teaspoon oil in a non-stick kadahi or a heavy base pan. Add cashew nuts.

Roast them over medium-low flame for around 6-7 minutes until they turn light brown. Stir continuously to roast them evenly and prevent burning. Transfer them to a plate.

In the same kadahi, heat 2-teaspoons oil over medium flame. Add a piece of cinnamon, chopped onion, garlic, ginger, and green chilli.

Sauté until onion turns translucent. Turn off the flame and let the mixture cool for a while.

While the mixture is cooling, let's make the cashew-tomato puree; Add 2 tablespoons (approx. 6-8 whole nuts) roasted cashew nuts in the small jar of a mixer grinder. Grind until smooth powder.

Add chopped tomato.

Grind until smooth to make cashew-tomato puree. Transfer it to a small bowl. Scrape the sides with a spatula.

Add sautéed onion mixture in the same jar.

Grind until smooth paste.

Heat remaining 1-tablespoon oil in the same kadahi (use 2-tablespoons oil if you are not using a non-stick kadai to prevent sticking). Add onion paste and grated beetroot.

Sauté until oil starts to separate (around 3-minutes).

Add cashew-tomato puree, red chilli powder, cumin-coriander powder, a pinch of turmeric powder and salt.

Mix well and sauté until oil starts to separate. It will take around 3-4 minutes.

Add roasted cashew nuts. Mix well and cook for a minute.

Add 1/2 cup milk and 1/2 cup water.

Mix well and cook covered for 3-minutes to prevent splattering.

Remove the lid, mix well and cook uncovered until gravy turns little thick. Add kasuri methi and chopped coriander leaves.

Mix well and turn off the flame. Kaju Curry is now ready for serving.
Tips and Variations:
Kaju Masala Curry prepared with this recipe has mild spicy flavor. To make it spicier, add more red chilli powder.
Add a pinch of cardamom powder in step-17 to make it even more aromatic and give it a restaurant like flavor.
Add shallow fried capsicum or green beans along with roasted cashew nuts in step-14 for a variation.
Taste:
 Mild Spicy with Creamy Gravy
Other Step by Step Recipes
---
9 Comments
---
Dec 03, 2017 by chinnaraja
Really good guidance

---
Dec 02, 2017 by Jayadev Raja
Kaju Curry turned out awesome.I got confused with the measurement as to how much 'a Cup'would be...glad my wife was there to help.

The pinch of cardamom powder actually did the magic trick of making it a restaurant like taste.

The quantity is indeed for 3 servings..

Highly recommended to try.

---
Oct 24, 2017 by Raj kumari
Like restaurant.....
Very tasty. Thanks for sharing.

---
Oct 09, 2017 by Vicky kalge
Very tasty n simple kaju korma recipe...thanks .....every one should try.

---
Mar 29, 2017 by Amanda
My husband thought this recipe was okay. My sister-in-law loved it and her 2 year old ate it too. If you like Paneer masala than you will like this.
I added less cashews at the end than the recipe called for but still I thought it was too much. (But if you love cashews and want one in every bite, then the amount called for would be great.)

I would make this again.

One question: Are you supposed to grind up the cinnamon with the onion or take it out?

Response: Hello Amanda, cinnamon is ground with onion in this recipe. However, if you don't like the flavor of cinnamon, you can omit it.
---
Mar 19, 2017 by Rupali9
This recipe gives me a very tasty kaju carry thank u soooo much...

---
Feb 04, 2017 by Vinuthasanthosh c
It's superb recipe. I love it.

---
Dec 22, 2016 by Jas
I followed each step and it turns out to be too tasty..my family loves it.. thanks for simple and so good explained reciepe..

---
Jul 01, 2016 by Hitesh Nagar
Recipe ko hindi me bataye.

Response: Hello Hitesh, as per your request, we have translated this recipe in hindi.
---