Kadai paneer, a mouthwatering combination of paneer, capsicum, tomato, onion and traditional Indian spices cooked in ghee, is one of the most popular curry recipes of Indian and Punjabi cuisine. It is a main course curry recipe and generally served with Indian breads like roti, naan, kulcha, paratha, etc. Due to its exotic taste and looks, it generally finds its way into the menu of important functions like marriage. Learn how to make it in minutes with this step by step photo recipe.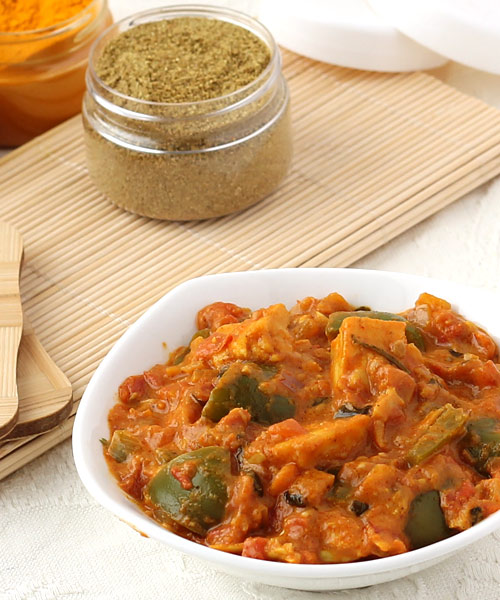 Preparation Time:
15 minutes
Ingredients:
250 gms Paneer (cottage cheese), cut into 1-inch cubes
2 tablespoons Dry Coriander Seeds
2 Dry Red Kashmiri Chillies
1 Green Cardamom
2 medium Capsicums, chopped into 1-inch pieces
3 medium Tomatoes, finely chopped
2 medium Onions, finely chopped
1 tablespoon Ginger-Garlic Paste
1/2 teaspoon Red Chili Powder
2 tablespoons Tomato Puree, optional
2 teaspoons Dry Fenugreek Leaves (kasuri methi)
3 tablespoons Cooking Oil or Ghee (clarified butter)
2 tablespoons Fresh Cream, optional
1/3 cup Water
Salt, to taste
How to make Kadhai Paneer without gravy:
To make this curry without gravy, skip adding tomato puree (in step-6), water (in step-9) and fresh cream (in step-11).
Notes:
Tomato puree and fresh cream are optional ingredients in this recipe. If they are not available, you can skip them to make this paneer kadai curry.
Directions:
Dry roast coriander seeds, kashmiri red chilli and green cardamom until nice aroma releases, for around 1-minute over low flame. Turn off flame and grind them in a grinder until smooth powder. Keep aside until required.
If you are using frozen paneer, then defrost it before cooking. Place cubes in hot water for 7-8 minutes to keep them soft. Drain a them and keep aside until required.

Heat oil or ghee in a non-stick pan over medium flame. Add chopped onion and sauté until it turns translucent.

Add ginger-garlic paste and red chilli powder; sauté for 1-2 minutes.

Add chopped tomatoes and mix well.

Cook until they turn tender and oil starts to separate or for around 4-5 minutes. Add crushed spices powder (prepared in step-1), mix well and cook for 2-minutes. Add tomato puree and mix.

Add chopped capsicum and salt, cook for 3-minutes.

Crush dried fenugreek leaves (kasuri methi) using your hand and add in the curry.

Add 1/3 cup water and cook for 3-minutes.

Add paneer cubes.

Mix and cook for 3-minutes. Add fresh cream.

Mix well and turn off flame. Do not cook for longer after adding fresh cream otherwise it may curdle. Transfer prepared curry to a serving bowl and serve hot.
Tips and Variations:
This easy and authentic recipe uses paneer cubes directly. However, you can shallow fry them (either in oil or ghee) until light brown for variation in taste.
You can use tofu instead of paneer if later is not available.
Taste:
Spicy with thick gravy.
Serving Ideas:
Serve kadai paneer with butter naan,
lachha paratha
or tandoori roti and
onion cucumber and tomato salad
. When this curry and Indian bread are accompanied with a glass of lassi, it becomes an authentic Punjabi meal.
Other Step by Step Recipes
---
42 Comments
---
Nov 16, 2017 by Maya raveendran
I made it..really it came out well.. thanks a lot for this wonderful recipe.. yummy ..

---
Nov 01, 2017 by Alex
Am latin, but I have indian husband and indian MOTHER IN LAW so, am fighting in the kitchen trying to qualify "no-so-bad" as always!
Thanks for help me! I try and really I feel that I cook good, but some people never will be happy! Thanks really!

---
Jul 17, 2017 by s mukherjee
Good one very good receipies.

---
Jun 08, 2017 by Neha shukla
I loved the recipe... it's yummyyy...

---
Jun 02, 2017 by monu
It is very good. I loved the pictures.

---
Feb 25, 2017 by Ravi
Sorry last time I did not see rating tab. I overlooked it. I would give 5* for every receipe. For every dish from FoodViva, which I've cooked, got it right and very tasty, I've tried at least 20 dishes Panneer dishes, Daal dishes, south and North Indian dishes, every time its right. I blindly follow the receipe explaination and getting right. My wife says can open restaurant. That shows Foodviva details of receipe. Last week for my son's birthday I cooked for 9 people Daal makhani and Kadai Panneer. I had great feeling from feed back. I told its from Foodviva. :)

Response: Thank you Ravi for sharing the wonderful feedback.
---
Feb 25, 2017 by Manju
Thanks for this recipe my parents liked it very well...and it came very well but it was less spicy....

Response: Hello Manju, you can increase the amount of red chilli powder to make it more spicy.
---
Feb 05, 2017 by Maryann Raj
Omg delicious! I added red pepper as well and it balanced out the spice nicely.

---
Sep 12, 2016 by Aparna singh
Thanks for this wonderful recipe, I tried kadhai paneer and my in-laws liked it.

Response: Thank you Aparna for trying the recipe. Glad to hear that your in-laws liked it.
---
Aug 29, 2016 by Sadhna
I am sorry but I tried this recipe and it came out very bad.

Response: Hello Sadhna, I am sorry to hear that this recipe didn't work for you.
---
Aug 22, 2016 by Archana Tandon
Very nice and tasty receipe. I liked it.

---
Aug 09, 2016 by Seshusai
Fantastic, please upload more and more recipes.

---
May 14, 2016 by Neetu
Thank u so much for easy recipe.

---
May 12, 2016 by Murali
Superb. Really mouth watering.

---
Apr 30, 2016 by Vivek Girdhar
Very nice recipe. I used it to impress my wife.

---
Apr 28, 2016 by Divyani
I made it! Every person in house couldn't believe I made this sabzi... It was damn amazing... All I extra added was 250 gm of extra paneer...

People asked me twice whether I made it or not!!

THIS RECIPE ROCS!!

---
Mar 18, 2016 by NEHA BHARTI
Can I use coriander powder instead of dry coriander seeds?

Response: Yes, you can use same amount of coriander powder instead of coriander seeds.
---
Mar 11, 2016 by Kavitha
Tasty paneer kadai recipe. Step by step teaching process with images was very helpful. Thanks a lot..

---
Feb 11, 2016 by Ram
Nice recipe. I'm Jain, so can I skip onions and what's the alternate for onions?

Response: You can skip the onion in the given recipe and no need to use anything else in place of it in this recipe.
---
Dec 29, 2015 by Aathira
Hi, nice recipe. Looking yummy..can we skip kasuri methi?

Response: Yes, you can skip kasuri methi.
---
Nov 02, 2015 by Akshatha
The recipe was just divine n very easy to cook.....! just loved it.

---
Sep 22, 2015 by Drashti
My favorite cooking site and superb style of recipes...very nice.

---
Sep 11, 2015 by Devraj
Best Indian food website in India. Simply impressed with your dishes. Yummy yummy mouthwatering dishes.

---
Jun 14, 2015 by Shivangi Mishra
Very nice recipe, thanks. Very delicious and looking good.

---
Jun 04, 2015 by Aastha
The dish was pretty easy to make, and delicious to eat. Thank you so much for such an amazing recipe :) One thing though- the appearance was not what I had expected....

---
Jun 03, 2015 by Pawan Gupta
It's a good recipe and I always love kadai paneer. Loved it.

---
May 22, 2015 by Seema
I love cooking from your recipes as it always turns out to be a yummy dish. Thanks.

---
Apr 24, 2015 by Ropesh thounaojam
I have just tried. It's easy. But I add green chilies. Though it doesn't look yummy but the taste was like yummy yummy :)

---
Apr 04, 2015 by Shashi Pal Singh
I have tried it successfully. The whole family was very happy to enjoy the tasty dish. This recipe was like high class restaurant preparation. Thank you very very much.

---
Mar 14, 2015 by Sushma
It was tasty and also enjoyable but I did not like its flavor.

---
Nov 04, 2014 by arghadeep das
I didn't know what would be the result, but it was just awesome. So easy procedure reduced my manual effort. Great, must try.

---
Oct 28, 2014 by yasmin
It is really tasty. Thank you very much.

---
Oct 21, 2014 by Jeeva
I had tried to make the dish from another site and it turned out horrible.. I was scared to try this today, but I must say... I LOVED it....:):):) thank u so much, it was really really easy and it really tasty.. I added a little bit of sugar to give it a slightly sweet taste.

---
Oct 19, 2014 by Trupti kapdia
I made it today... The result was amazing. I added a little garam masala as I felt it was bland.

---
Oct 06, 2014 by athira
Super veggie dish! Thank you for the easy explanation about the dish!

---
Oct 04, 2014 by sonal rajani
Thanks for your superb recipe. And thanks for your wonderful tip to use tomato puree along with chopped tomatoes. I never knew this. Would love to see your website for more different kind of restaurant style of recipes.

---
Sep 17, 2014 by NISHAT
Hi, I m so much fond of cooking and eating new dishes and I appreciate and thank for your recipes. They are really very nice please post more recipes specially of paneer. Thanks a lot.

Response: Thanks, we will definitely upload more paneer recipes.
---
Aug 10, 2014 by Zainab
very easy recipe steps....thanx.

---
Jun 28, 2014 by mrs.Aarti Bahirwani
Very easy an interesting receipe. Enjoyed the every bit. Thanks.

---
May 30, 2014 by Seena Rajsekar
Its my favourite my family also loved it very delicious.....

---
May 27, 2014 by Raina
I tried it... it tastes superb ... thankz for this delicious recipe..

---
Oct 13, 2013 by shobha
My favourite........very delicious & inviting dish.

---