Batata Nu Shaak (Gujarati Style Potato Sabzi) Recipe
(with Step by Step Photos)
Every Gujarati thali has one common sabzi in it, Batata Nu Shaak. This recipe prepares traditional Gujarati batata nu rasa valu shaak, which can be paired up with
masala puri
or
thepla
for complete meal.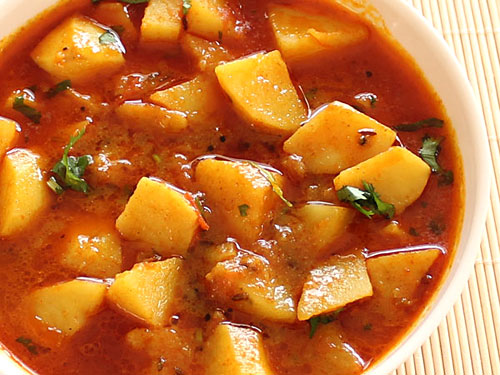 Preparation Time:
10 minutes
Ingredients:
2½ cups peeled Potato cubes
1/4 teaspoon Mustard Seeds (rai)
1/2 teaspoon Cumin Seeds (jeera)
2 teaspoons Green Chilli-Ginger Paste
1 Tomato, chopped
1 pinch Asafoetida
1/2 teaspoon Turmeric Powder (haldi)
1 teaspoon Red Chilli Powder (lal mirch)
2 teaspoons Cumin-Coriander Powder (dhaniya-jeera powder)
1 teaspoon Sugar (optional)
2 tablespoons Cooking Oil
1½ tablespoons Fresh Coriander Leaves, chopped
1¼ cups Water
Salt
Directions:
Heat oil in a heavy bottomed pan or kadai. Add mustard seeds; when they begin to crackle, add cumin seeds and asafoetida followed by green chilli-ginger paste. Stir and mix well.

Add cubed potatoes and sauté for 3-4 minutes.

Add chopped tomatoes, salt and sugar and sauté for 3 minutes.

Add red chilli powder and turmeric powder and sauté for 1 minute.

Add 1¼ cups water and let mixture boil over medium flame. When boils, cook covered on medium to low flame until potatoes are cooked, stir every 4-5 minutes.

It would take around 10-15 minutes to cook completely. If required, add more water and cook for few more minutes. (Time and water required may vary according to type of potatoes and thickness of pan.)

Add cumin-coriander powder, mix well. Turn off the heat. Transfer it to a serving bowl, garnish with fresh coriander leaves and serve.
Tips and Variations:
You can also use unpeeled potatoes to make this Gujarati potato curry.
Add 1 teaspoon crushed garlic to make it a bit spicy and aromatic.
Gujaratis like little sugar in all sabzis and this recipe is no exception. You can adjust the amount of sugar according to your taste or completely avoid it if you don't like mild sweet after taste.
Serving Ideas:
Batata nu shaak can be served with hot phulka roti or chapatis for lunch. Many prefer to serve it with steamed rice, papad and curd.
Other Step by Step Recipes
---
16 Comments
---
Nov 23, 2017 by Neelam
Tasty curry made with ease and available ingredients.

---
Oct 04, 2016 by Ritu
Hello, I made this recipe and it turned out well.The only difference was in the water level after cooking. I had to cook it uncovered for a few minutes for water absorption. It was too watery in the beginning.

---
Aug 14, 2016 by Manwani Roma
It was awesome dish and thank you.

---
Aug 03, 2016 by James
Excellent recipe with step by step instructions and pictures. I have made this veg so many times and my kids love it. I am dum-alo masala, garlic and kasuri methI.

---
Apr 27, 2016 by KK
Just made this but adding some garlic. It came out so well, I had to comment. Thank you! :)

---
Apr 18, 2016 by Ravi
Do you boil the potatoes and then cube them or is this uncooked potatoes then they will cook while cooking?

Response: Hi Ravi, uncooked potatoes are used in this recipe.
---
Mar 25, 2016 by Deep
It looked watery for a bit but after I cooked it looked better. I made this for my mom when she was at work and I forgot to bring her food home so I decided why not make Indian food myself. She loved it.

---
Feb 24, 2016 by Sana
Thank you for this recipe. I have tried this is one of the vegetarian gujarati thali. I am pakistani, and love this recipe !

Response: Happy to hear that you liked the recipe.
---
Jul 13, 2015 by Priyanka
I'm trying the recipe right now and it looks watery... plus I'm cooking in tefal vessel so how much time it needs to cook in it?

Response: Hi Priyanka, if the potato is cooked and curry looks watery, cook it uncovered for few more minutes until you get the desired consistency of gravy. Time required to cook depends on the thickness of the vessel and quantity of the curry.
---
Nov 27, 2014 by Shifa
I have a question. In this recipe, coriander powder is added towards the end. Wouldn't it impart a raw smell? Can we just add it while adding the chilli powder?
Thanks. Waiting for your reply.

Response: Hi Shifa, coriander powder is added towards the end in most of the Gujarati curry recipes to enhance the flavor. If you do not like raw smell of coriander powder, either you can add it while adding other spices (like turmeric powder and red chilli powder) or you can skip it.
---
Sep 22, 2014 by Izabel Sequeira
It was simply delightful & so tasty goes very well with chappattis.

---
Jul 28, 2014 by Chinmay bhavsar
A bigThank You!

Turned out exactly how I wanted. Did add little kasuri methi though.

Response: Thanks for trying the recipe. Yes, you can add kasuri methi to give it a punjabi touch.
---
Jan 02, 2014 by Jignesh
I made it for my kids and they loved it.
I will follow receipe more carefully and add less ginger next time.

Response: Thanks jignesh for trying the recipe. You can increase or decrease the amount of ginger, green chilli and red chilli powder according to your taste to make it more or less spicy.
---
Jun 01, 2013 by Anya Sanchorawala
This is a wonderful recipe which my whole family ate with delight!

---
Apr 18, 2013 by Sush
Awesome. I tried this with exact same steps and it turned out very nice looking and tasty. And most of all it was very easy. Thanks so much !:)

---
Oct 16, 2012 by surya
this subzi is very tasty. and very easy to make too..just add little bit of kasuri methi at the end it makes the recepie even more tasty

---