Aloo methi sabji is prepared in two different styles, with gravy and without gravy. This recipe is for making aloo and methi sabzi with garlic flavored gram flour based gravy. Follow the given recipe to make this curry at home within few minutes.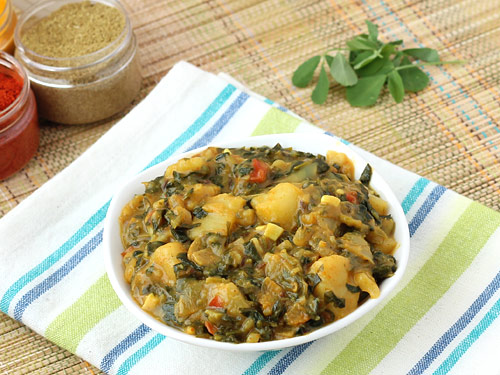 Preparation Time:
15 minutes
Ingredients:
1½ cups boiled and cubed Potatoes
2½ cups Fresh Fenugreek Leaves (Methi), cleaned and chopped
1/2 teaspoon Cumin Seeds (jeera)
1 Onion, finely chopped
5 cloves of Garlic, finely chopped
1 teaspoon grated Ginger
1 Tomato, finely chopped
1 teaspoon Red Chilli Powder (lal mirch)
2 teaspoons Coriander Powder
1/4 teaspoon Turmeric Powder (haldi)
2 teaspoons Gram Flour (besan)
1 teaspoon Lemon Juice
1 teaspoon Sugar (optional)
1½ tablespoons Cooking Oil
Salt to taste
Water
Note:
Add salt while boiling potatoes to get evenly taste.
Directions:
Wash chopped fenugreek leaves in water and drain.

Heat oil in a kadai over medium flame. Add cumin seeds; when they begin to crackle, add chopped onion and sauté until it becomes translucent. Add chopped garlic and grated ginger, sauté for 30-40 seconds.

Add chopped tomato and sauté until it turns tender for approx. 2-minutes.

Add and mix red chilli powder, coriander powder and turmeric powder.

Add potato cubes and stir well.

Stir and cook for approx. 1-minute.

Add chopped fenugreek leaves and salt to taste.

Stir and cook for 3-4 minutes.

Mix gram flour in 3/4 cup water and add it in potato and methi mixture. Add lemon juice and sugar. Bring it to a boil on medium flame.

When it starts boiling, reduce flame to low and cook until desired consistency of gravy. Keep stirring in between to make sure that sabzi does not burn and stick at the bottom of pan or kadai.

Turn off the flame and transfer aloo methi gravy sabzi in a serving bowl. Serve hot.
Tips and Variations:
Adjust the quantity of sugar and lemon juice to get desired mild sweet and sour taste.
Add more water to make thin gravy and add less water to make thick gravy in step-9.
Taste:
Spicy and mild tangy tomato taste with nice flavor of fenugreek leaves.
Serving Ideas:
Serve it with either chapati or paratha, rice khichdi and kadhi as a healthy food in dinner.
Other Step by Step Recipes
---
8 Comments
---
Nov 16, 2017 by Sharan
Excellent recipe. Tried this today and the flavors blended really well. Wasn't heavy either.
Used ginger powder instead of grated ginger and added a little more of the cumin seeds.

---
Jul 02, 2017 by Prasanna Iyer
Hi,

The recipe came out really well. The game changer here is besan and lemon. We had used around 10-15 gms besan for roughly 2 potatoes (medium), 1 tomato (half size of cricket ball), 4 garlic cloves, pinky finger sized garlic and 2.5 tsps kasturi mehti. Only fact was that once you put the potatoes, it starts dragging significant amount of oil which is crazy. Like if you do not put oil, the bottom side gets roasted out. Consistency maintained was medium (like 70% solid).

Thanks for this!

---
Jan 04, 2017 by Preet
Hi. I like your recipes a lot
Have tried most of them.
Actually I am a new bride and my in laws are big foodie and I misplaced my recipe diary while packing.. just imagine the horror I faced when I had to cook proper punjabi food for the whole family. Mind u I was to be judged on that and before marriage Most of my time was taken up by my job so I was rusty in my cooking.
But searched online went through your website and safe to say I passed my cooking exam with flying colours.. so thank you for putting together these recipes that are traditional healthy and tasty.

Response: Thank you Preet for trying the recipes. Glad to hear that your family loved it.
---
Sep 30, 2016 by Priyanka
Very easy and yummy recipes. Thanks for sharing.

---
Dec 09, 2015 by Sheila
Tried this recipe today and it was real yummy! Thank you for sharing and God Bless!

---
Nov 24, 2015 by natasha
I m a big big fan of your site....Every time I try your mentioned recipe and it really turned out of my and my husband's expectation. Now I m totally addicted to your site. Really easy and very very tasty like restaurant kind of style.....please add some more recipes like healthy breakfast and lunch recipes for kids.....Thank u so much ...

Response: Hi Natasha thanks for trying the recipes and I'm glad your family loved it. We will definitely try to upload healthy recipes for kids.
---
Oct 15, 2015 by Khadija Amin
Superb way of presenting the dishes. You make cooking so easy and simple yet yummy. EXCELLENT! Loved your recipes.

---
May 12, 2015 by Hephzibah
I tried this recipe yesterday and it was made yummy. Thank you for the help. Loved this site and specially the directions given it becomes easy to make. I am gonna make some more dishes hope they will also be the same...

---