Aloo Bhindi Recipe
Aloo and bhindi are two basic vegetables in Indian cooking and they make varieties of delicious dishes. Once such simple and easy to make recipe involving both ingredients is mild spicy and healthy shallow-fried aloo bhindi. This Indian curry is suitable for lunch or dinner and has dry to semi gravy texture due to use of crushed tomatoes, curry spices and shallow fried okra and potato slices.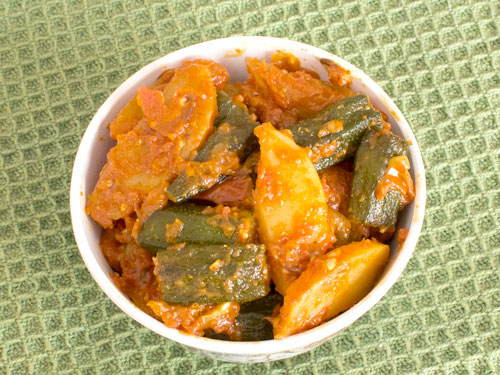 Preparation Time:
10 minutes
Ingredients:
1 large Potato (aloo)
200 gms Bhindi (ladies finger/okra)
1 medium Onion, finely chopped
2 medium Tomatoes, crushed
1/4 teaspoon grated Ginger
2-3 cloves Garlic, crushed
1/2 teaspoon Cumin Seeds
1/4 teaspoon Garam Masala Powder
1/8 teaspoon Turmeric Powder
1/2 teaspoon Red Chilli Powder
1 teaspoon Coriander-Cumin Powder
1/2 teaspoon Sugar (optional)
Salt
For shallow frying + 1 tablespoon Oil
Directions:
Peel and cut potato into two halves. Cut each half into 1/4-inch thick slices.
Thoroughly wash bhindi in water and wipe using cloth or kitchen napkin. Put them on a cutting board, remove head and tail parts and cut into approx. 1 inch long pieces.
Heat 2-3 tablespoons oil in a pan and shallow fry bhindi pieces over medium flame for approx 5-6 minutes or until they turn dark green and shrink. Turn them with spatula in between to cook and fry evenly. Strain and transfer to a plate.
Shallow fry potato slices over medium flame until cooked and crispy or for around 5-7 minutes in same pan. If required, add more oil. Transfer them to a plate.
Heat 1 tablespoon oil over medium flame in the same pan.
Add cumin seeds in heated oil. When seeds begin to crackle, add finely chopped onion and sauté until light brown.
Add grated ginger and crushed garlic, sauté for 30 seconds.
Add crushed tomato and cook for 2-3 minutes or until oil starts to separate.
Add garam masala powder, red chilli powder, turmeric powder, coriander-cumin powder, sugar and salt, mix well.
Add shallow fried bhindi and potato slices, cook for 2-3 minutes.
Turn off flame and transfer aloo bhindi to a serving plate.
Tips and Variations:
Sprinkle some salt over potato slices while shallow frying to enhance the flavor.
You can add more crushed tomatoes to make more gravy.
You can avoid tomatoes; simply cut bhindi and potato into small pieces to make it a simple affair.
Taste:
Mild spicy and savory
Other Step by Step Recipes
---
7 Comments
---
Mar 11, 2017 by Bharani
My son is 18, very choosy about food, but he like bhindi & potato in any form, m sure he will like i.

BTW i tried bhindi masala it was awesome ...
thank u for d easy and wonderful recipes

---
Jul 31, 2016 by Suneetha Bhat
Wonderful recipie. Easy to prepare and very tasty too!!

---
Feb 20, 2016 by Prasiddhi dhuri
Good cookery website...
but I also want nonveg recipes.

---
Nov 08, 2015 by Priyanka Ruia
I like all the recipes by foodviva. Please add some breakfast recepies also..thanks..

Response: Hi Priyanka, happy to hear that you liked the recipes. Follow the given link view Breakfast Recipes.
---
Aug 31, 2015 by Ajay
I like the recipe. We can add some ajwain also.

---
Feb 04, 2015 by Bhavna
I want for 8 servings, what to do?

Response: Hi Bhavna, you can multiply all ingredients by 3 to make this curry for around 8-9 people.
---
Jul 10, 2013 by Shimu
It looks so easy and delicious. Surely I will make this for my dinner today! Thanks a lot!

---