Onion puree is one of the common ingredients required in preparing gravy for most of the Indian style paneer curries and making it at home is super easy! – blanch onions and then crush them using blender or mixer into puree. You can also make it from raw onions but puree made from blanched onions takes lesser time to cook (turn light brown while sautéing) and it gives better taste to the curry. Follow this step by step photo tutorial to learn how to blanch onion and make its puree at home in few easy steps.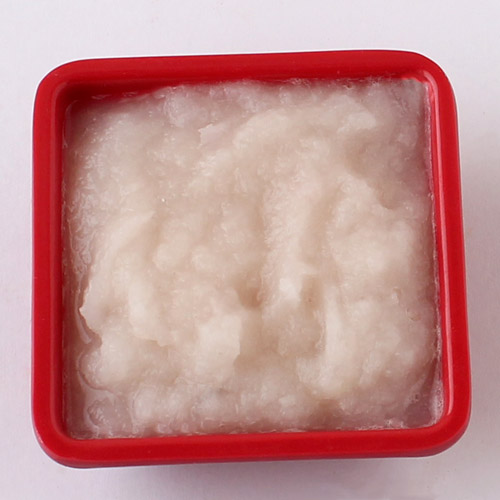 Preparation Time:
5 minutes
Ingredients:
3 medium size Onions
Water
Cooking Utensils:
Deep Pan
Blender or Mixer
Knife
Directions:
Peel all onions. Make two 1-inch deep cuts perpendicular to each other with knife (as shown in the photo).

Take deep vessel, add 2-cups water in it and bring it to rolling boil over medium flame. Carefully drop onions in it. Onions should be completely submerged in water, if required, add more water.

Boil them for approx. 4-5 minutes over medium flame.

Turn off the flame, drain hot water and add 2 cups cold water and allow onions to cool for 2-3 minutes. This process is required to prevent over cooking of onion. The color of onion will slightly change after boiling. When it cools, drain water and transfer to a plate.

Remove the stem and cut into quarters. Transfer it to a small jar of mixer grinder or blender.

Blend until smooth puree.

Onion Puree is ready. Use it as required for making Indian style vegetable gravy or curry.
Tips and Variations:
You can use any type of onion (red or white) to make its puree.
Other Step by Step Recipes
---
7 Comments
---
Mar 14, 2017 by Anna
Can i keep the leftover puree in the fridge or the freezer?

Response: You can store it in a refrigerator in closed container and use within 3-4 days.
---
Oct 24, 2016 by A nil talwarit
I like your recipe and sure it will change my way to prepare.

---
Aug 22, 2016 by Rati
I love your site. I was terrified of cooking but now I have gained more confidence.

---
May 25, 2016 by Harsha
I want to carry this paste with me. Is it ok to carry without freeze for 18 hrs?

Response: No Harsha, you cannot carry this paste for 18 hours.
---
Feb 07, 2016 by Zainy
I have heard chopped or grinded onion should not be preserved, if they are uncooked as they release some dangerous acids or chemicals ? I have a puree of raw onion (not cooked or boiled), can I store it for many days?

Response: No Zainy, you cannot store raw onion puree.
---
Aug 15, 2015 by Sami
I want to know whether it can be stored/preserved for use up to 15-30 days in fridge?

Response: Hi, you can store it in refrigerator for 3-4 days and in freezer for 15-20 days.
---
Nov 03, 2014 by Darshana Kannan
Hi. I have tried a few recipes of yours and I loved them all. The best part is you make them sound super simple and allow for personal modifications. I wanted to know if we can make this puree and keep it for a few days in the refrigerator. If yes, how long will it last? Thanks.

Response: Thank you for appreciation, you can keep this puree in a zip bag or a small plastic container in the freezer section of a refrigerator for 1-2 weeks. When you required it for cooking, thaw the puree before using.
---