If you have ever found yourself in the need of paneer but couldn't find it in a store near you then here is the simple and easy solution for you – Homemade Paneer. Contrary to popular belief, making paneer or cottage cheese at home is extremely easy and satisfying. Just add any one of these acidic ingredient – lemon juice, buttermilk, citric acid or whey in hot boiled milk and then strain and compress the curdles under heavy pressure. This recipe uses lemon juice because of its easy availability and consistent results.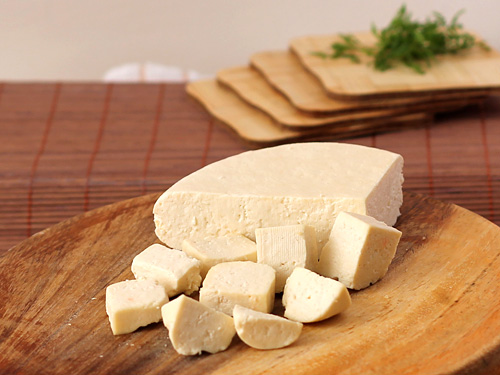 Preparation Time:
50 minutes
Ingredients:
2 liters Full Fat Milk
1/4 cup Lemon Juice
Utensils Required:
Strainer
Plain Muslin Cloth
Heavy Object like Mortar
Plates
Directions:
Boil 2-liters milk in a deep pot or deep saucepan over medium flame.

When it starts to boil, reduce flame to low. Add lemon juice gradually (1-teaspoon at a time) and stir gently.

Milk will start to curdle and milk-solids would separate from the liquid.

Turn off flame and take it away from stove/cook-top.

Place clean muslin cloth over strainer in another big vessel and pour curdled milk into it to remove whey (liquid portion). Pour 2-3 glasses cold water over strained solids to remove sourness of lemon. Discard the whey or use it to make paratha dough.

Lift muslin cloth toward top from all sides, hold its mouth and tighten it by turning clockwise and squeeze out excess water. Tie the mouth and place it over colander or upside-down plate or any flat surface and keep heavy object over it (keep colander or upside-down plate in another larger plate so that drained water seeps out completely). Keep it under pressure for 40-45 minutes for little moist texture.

Remove the heavy object.

Open the tied muslin cloth and you will see a large round shaped paneer slab is ready.

Cut it into your desired shape and use it to prepare curry from it. You can store it in airtight container or zip lock bag for 3-4 days in refrigerator or store for a month in freezer.
Tips and Variations:
Keep heavy object for 1½ hours in step-6 if you want slightly dense texture.
If you preparing it for making any sweet then prepare it using a regular milk.
Other Step by Step Recipes
---
17 Comments
---
Jan 11, 2018 by Jane
I like the recipes because they simple and easy to use

---
Feb 24, 2017 by praful
Hi, I was wondering do you have a downloadable recipe for all recipes. It is hard to use a computer/smart pads when you are cooking in the kitchen. I know you have the print option but I am thinking of a book or some kind, which would have pictures.

Response: Hello Praful, we don't ave any hard copy book of the foodviva recipes with pictures at this time. But we will think about it in future.
---
Jan 30, 2017 by geethika
Awesome Recipe! Really loved, we tried at home! Simply super.

---
Mar 14, 2016 by Vaishnavi
Mam,
I tried yesterday to make paneer but its not curdled, I tried this 4th time with that milk with lemon and curd also but milk is remaining milk only. Why?

Please reply.

Response: Hi Vaishnavi, follow the given steps for proper milk curdling.

1. Add lemon juice when the milk is boiling (after first boil). If the milk is little cool or not boiling, it will not curdle properly.
2. If the milk is not curdling, add little bit more lemon juice than given measurements.
3. When you try next time, boil only 1/2 cup milk and when it comes to rolling boil, add lemon juice, stir and cook until it starts to curdle.
4. Try using another brand milk.
I hope this will help you.
---
Mar 07, 2016 by Sheryl Dias
All your recipes are really superb, I tried few and it turned out really amazing and yummy. Please keep posting new recipes as all your recipes are yummy.

---
Nov 27, 2015 by Shoeb Shaikh
Thank you for sharing this recipe, I always find difficult to prepare paneer at home but this step by step make more easy & exciting to make dishes at home.

I request you to please share recipe related to yogurt (how to make yogurt?) & frozen yogurt.

Thank you.

---
Nov 26, 2015 by Bhagya
Hi, I tried but after cooking the paneer cubes melted, help me with this. How ready made panner is so hard.

Response: Hi Bhagya, when you make the paneer next time, keep it under the weight for extra 1-hour to make it hard.
---
Oct 29, 2015 by Darshana
I chanced upon your website and must say this, you have made it so easy and simple to follow and understand your recipes. Absolutely methodical and perfect.
Keep it up.

Response: Thank you Darshana.
---
Oct 21, 2015 by Raina Dsouza
Thats awesome and clearly expained. I tried and came out really well. Thanks.

---
Jun 23, 2015 by Diana
I am a newbie to cooking world. But visiting your pages and trying out the recipes gives me a kinda confidence. Thank you a lot. Please keep up the good work! God bless.

Response: Thank you Diana.
---
Oct 28, 2014 by Adity Kumar
Hey, thank you so much. I am in Morocco and pure vegetarian, so I tried lots of recipes from this site and having best results. Love ya. Keep rocking our Indian flavors. Mwahhhhh...

---
Sep 19, 2014 by Ole
Hey,
I'm from Germany and just wanted to say thank you for this beautiful website. I am crazy about Indian cuisine because I'm a vegetarian. Thank you so much!

and 5 Stars of course!

---
Mar 29, 2014 by Amrutha
too yummy... too perfect... too tasty...

---
Mar 20, 2014 by sharmaji
very nice recipes but i know how to make tofu from soya but cant minimise the soya smell from tofu tell me plz how to less soya smell

Response: Thanks you very much for the feedback. Currently I do not know how to reduce soya smell from tofu. I will try to prepare tofu at home and experiment on how to reduce the smell of soya beans.
---
May 19, 2013 by federico
I was wondering is this could work with almond or soy milk... what do you think? thanks.

Response: Paneer made form soy milk is known as tofu. However, we have never made it at home so we don't have any idea about it. We will try to make it at home and post the results here soon.
---
Apr 15, 2013 by aara
Your paneer chunks look awesome :) beautifully explained and neatly presented just very well done presentation i was never able to click pic of rasam right :) Simple and quickly recipe
Wonderful :)i am your new follower via G+ .i have a similar food blog too :) Do check it when free

Response: Thanks. Your blog is good too.
---
Apr 12, 2013 by Nava Krishnan
Awesome, I adore how you have given so much of life to a simple recipe yet making it trilling and exciting to the palates.

Response: Thanks Nava.
---