Vankaya Pachadi Recipe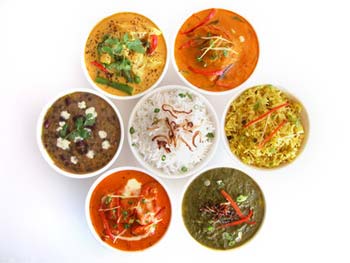 Vankaya Pachadi is yet another delicious dish from the land of idlis and dosas, Andhra Pradesh, and it is very similar to baingan bharta. In its simple preparation, it's a curry of grilled brinjal (roasted or directly cooked on gas burner) sautéed with mustard seeds, cumin seeds, urad dal, chilli, curry leaves, onion, garlic and spices.
Preparation Time:
10 minutes
Ingredients:
1 big (purple or light green round shaped) Brinjal (aubergine/eggplant)
1 teaspoon Tamarind Paste
1/2 teaspoon Mustard Seeds
1/2 teaspoon Urad dal (Split Black Gram)
1/2 teaspoon Cumin Seeds
1 pinch Asafoetida (hing)
1 Onion, finely chopped
4 Garlic Cloves, chopped
1/2 teaspoon grated Ginger
1 sprig Curry Leaves
2 Green Chillies, slit lengthwise
1/4 teaspoon Turmeric Powder (optional)
1/2 teaspoon Red Chilli Powder (optional)
2 tablespoons finely chopped Coriander Leaves
2 tablespoons Cooking Oil
Salt
Directions:
Take a big round shaped purple or light green brinjal, Clean it and prick it's surface using fork. Brush some oil on its outer surface and cook directly on burner. When skin turns black, rotate it to cook remaining sides. Keep rotating it at regular intervals to cook evenly. When its entire surface is charred and has become black and flaky, turn off the heat and wash it in running water.
Peel charred skin, transfer brinjal flesh to grinder jar, add tamarind paste and salt, grind until medium coarse paste. (Do not make a smooth paste).
Heat 2 tablespoons oil in a pan.
Add mustard seeds. When seeds begin to crackle, add urad dal and sauté until golden brown. Add cumin seeds and asafoetida, sauté until cumin seeds start to crackle.
Add chopped onion and cook until it turns light brown.
Add chopped garlic, grated ginger, curry leaves, green chillies, turmeric powder, red chilli powder and sauté for 30-40 seconds.
Mix brinjal paste and cook over medium flame for 2-3 minutes.
Turn off the heat and garnish vankaya pachadi with coriander leaves.
Tips and Variations:
Choose brinjals which does not have any tiny holes around its surface. It should be firm on touch but not very hard. Its skin should be tender and glowing.
It's very difficult to peel skin of uncooked brinjal. Make sure to cook it evenly until skin turns charred.
If tamarind paste is not available, then use same amount of lemon juice.
Add 1 medium chopped tomato for variation, it gives very good texture to this Andhra pachadi.
Serving Ideas:
Andhra's popular vankaya pachadi and chapati or steamed rice is a delicious and healthy combination. You can also serve it with rava dosa, steamed Idli or onion uttapam.
Other Step by Step Recipes