Peanut Chutney, a versatile and easy to make spicy chutney, is a must have accompaniment in south Indian cuisine. It can be of two types, wet and dry. This recipe is for making wet peanut chutney for dosa and idli and it can be used either as spread or as an accompaniment.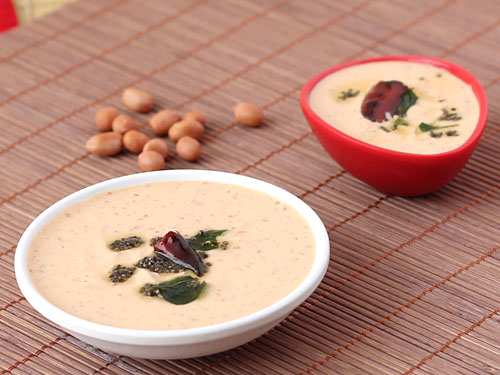 Preparation Time:
10 minutes
Ingredients:
1/2 cup Roasted Peanuts, skin removed
3 Garlic Cloves
1/4 teaspoon Tamarind Paste
4 Dry Red Chillies
1/2 teaspoon Mustard Seeds
4-5 Curry Leaves
2 teaspoons Oil
1/2 cup Water
Salt
Directions:
Take roasted peanuts, garlic, 3 dry red chillies, tamarind paste and salt in a chutney jar of grinder.

Grind them together to make a medium coarse powder.

Add 1/2 cup water and grind again until smooth paste. Transfer paste to a serving bowl and proceed to prepare tempering.

Heat oil in a small pan. Break 1 dry red chilli into two pieces. Add mustard seeds; when they start to crackle, add curry leaves and remaining 1 dry red chilli. Sauté for 10 seconds and turn off flame.

Pour tempering over chutney paste. Chutney is now ready to be served with steamed idli and dosa.
Tips and Variations:
If roasted peanuts are not available, then you can dry roast them over low flame in a heavy based pan for 7-8 minutes. Let them cool for 3-4 minutes and remove the skin.
Increase or decrease the amount of red chillies to make more or less spicy respectively. Adding more chillies will in fact make it Andhra style spicy peanut chutney.
You can avoid topping it up with mustard seeds tempering if you are going use it only for making dosa.
Serving Ideas:
It can be served with south Indian dishes like steamed rice, rava idli, rice idli, plain dosa, masala dosa, medu vada, etc. Enjoy it as a spicy condiment with rasam-rice or sambhar-rice.
Other Step by Step Recipes
---
10 Comments
---
Oct 24, 2017 by PUSHKAR KUMAR
Really nice and detail information with picture is excellent.

---
Oct 05, 2015 by Geeta
Thanks it's so delicacies. And very tasty.

---
Oct 28, 2014 by Nirmala Meghani
I tried this chutney and liked it very much, it was really very very tasty.

---
Aug 22, 2014 by Asghar
Excellent, tasty and easy to make. Thanks for sharing.

---
Jun 17, 2014 by Ankita Bhattacharya
Thanks for the coconut chutney receipe.. loved it!!
would also like to know the receipe of Lauki ka halwa...

Response: Follow the given url to get the step by step photo recipe of Lauki ka halwa - http://foodviva.com/desserts-sweets-recipes/dudhi-halwa-recipe/ .
---
Jun 06, 2014 by indira
i have tried these recipes .they have come out well and delicious that we are always willing to eat these recipes.

---
Mar 08, 2014 by sutharma arunodh
Hi, thank you so much for sharing this recipe. It has come out well and is so delicious too.

---
Nov 23, 2013 by Anjana
Thank you.
I love this easy way to make chutney.

---
Nov 05, 2013 by Philip V Ariel
Hi, thank you so much for sharing this recipe. It has come out well and is so delicious too. Keep up the good works.

---
Sep 19, 2013 by marathi recipes
nice recipes, I like it...

---