When onions, ginger, garlic, chana dal, urad dal, dry red chillies and curry leaves are sautéed in oil and pureed in blender, a delicious onion chutney is born. The tamarind paste and jaggery makes it simply irresistible as it provides sweet and tangy touch to spicy and aromatic flavor of ginger-garlic and curry leaves. The sautéed urad and chana dals makes it a typical south Indian fare and hence, it's a perfect condiment to be served with idli and dosa.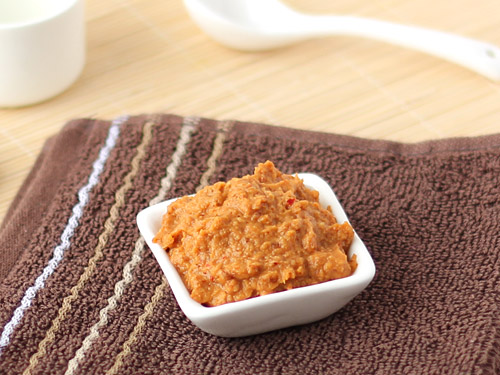 Preparation Time:
4 minutes
Serves:
6 servings (1/2 cup)
Ingredients:
2 medium size Onions, finely chopped
3 Dry Red chillies, broken into pieces
1 teaspoon Urad Dal (Split Black Gram)
2 teaspoons Chana Dal (Split Bengal Gram)
3 Garlic cloves, chopped
1 teaspoon finely chopped Ginger
1/2 teaspoon Tamarind Paste
1/2 teaspoon grated Jaggery (optional)
1 teaspoon + 2 teaspoons Cooking Oil
Salt
Directions:
Heat 1 teaspoon oil in a pan over low flame. Add urad dal and chana dal and sauté until dals turn golden brown. Add dry red chillies and sauté for 20 seconds. Transfer them to a bowl.

Heat remaining 2 teaspoons oil in same pan and sauté chopped onion, chopped garlic, curry leaves and chopped ginger until onion becomes light brown or for approx. 1-2 minutes. Remove pan from heat and allow mixture to cool.

Transfer sautéed dal mixture and sautéed onion mixture to grinder jar or food processor. Add tamarind paste, jaggery and salt.

Grind until smooth paste. (Do not add water while grinding.)

Transfer prepared south Indian onion chutney paste to serving bowl and serve you're your favorite dosas and idlis.
Tips and Variations:
Sauté onion properly to get rid of its raw smell.
If dry red chilli is not available, then add 1/2 teaspoon red chilli powder in step 4 as a substitute of it.
Use sesame oil instead of any other cooking oil for a nice flavor.
Serving Ideas:
This Indian onion chutney for dosa and idli can also be served with steamed rice, chapati and your favorite curry as a yummy accompaniment.
Other Step by Step Recipes
---
10 Comments
---
Oct 02, 2017 by Guy
Hi
what type of grinder are you using?
regards
Guy

Response: Indian style mixer grinder is used in all the recipes. You can find it easily online or in stores in India and online (preethi mixer grinder) on amazon.com outside India.
---
Jul 23, 2017 by Latha
Awesome recipe, thanks. yummy!!!!

---
Jun 16, 2017 by Kavitha Sudharsan
Instead of jaggery what ingredient can be used?

Response: You can use same amount of sugar instead of jaggery.
---
May 11, 2017 by Sowmya K
Thanks for the quick and easy recipe. Tried it was and it was yummylicious.

---
Apr 19, 2017 by Ajay Deuskar
What is the shelf life of this chutney?

Response: It stays good for 2-3 days in the refrigerator.
---
Oct 18, 2016 by Pavithra
Awesome recipe just now I instantly tried and the taste was good will try all ur recipe one by one.

---
Apr 21, 2016 by Anjali Dash
Hi, can we use something else instead of tamarind?

Response: You can use lemon juice instead of tamarind.
---
Feb 07, 2016 by Nisha
Superb taste. Thank you for such an easy recipe.

---
Nov 21, 2015 by Pushpalatha
Superb and delicious.

---
Jan 15, 2015 by sabeena
Great work. Very helpful and easy learning. Thank you so much.

---