Mango Chutney Recipe
Sweet and sour mango chutney prepared with slightly ripe mangoes makes tatse buds tingle in an instant. In this recipe, mango slices are cooked in boiling water with spices like cardamom, cinnamon and clove, that gives it a spicy zing. The gralic and chilli powder provides hot touch while sugar balances out sour and spicyness with its sweetness. That's not all, the addition of vinegar puts its in a league of amazing sweet, sour and spicy chutneys that can be stored for few days too.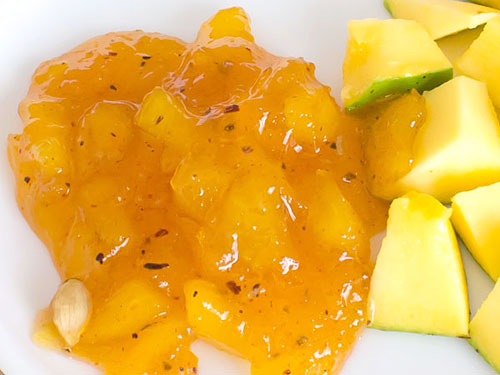 Preparation Time:
15 minutes.
Ingredients:
2 large Mangoes (slightly under-ripe)
1/3 cup Water
6 Cardamom Pods
1 teaspoon grated Ginger
1/4 teaspoon Clove Powder
1/4 teaspoon Cinnamon Powder
1½ cups Sugar
1 tablespoon Vinegar
1/2 teaspoon Red chilli Powder
1/2 teaspoon Cumin Powder
Salt
Directions:
Take mangoes which are slightly ripe and has sweet and sour taste (i.e. it should not be fully ripe but not completely raw too). Wash them in running water. Peel and cut them into long and thin slices or small pieces.
Boil 1/3 cup water in a pan. Add mango slices and cook over low flame for around 4-5 minutes. Stir in between occasionally.
Add cardamom pods, grated ginger, clove powder, cinnamon powder and sugar. Mix properly and cook over low flame until slices are soft and tender and mixture turns thick or for approx. 15-20 minutes.
When mixture turns thick, add vinegar and salt. Stir and cook for 4-5 minutes.
Turn off flame and allow mixture to cool at room temperature. Sprinkle cumin powder and red chilli powder over it and mix well. The chutney would get thicker as it cools.
Sweet and hot mango chutney is ready; Transfer it either to serving bowl for immediate serving or to sterilized glass bottles and store in a cool, dry place for anytime use.
Tips and Variations:
Use heavy based saucepan or non-stick pan and cook on low flame to allow even cooking and avoid burning.
Use raw green mangoes instead of slightly ripe mangoes for tangier chutney. Add more sugar if its too sour.
Add more red chilli powder and spices if you love very spicy flavor and taste.
Taste:
Sweet and mild sour
Serving Ideas:
In India, sweet mango chutney is known as aam ki chutney and its typically served with Indian breads like roti, thepla, paratha etc. It can also be used as flavor enhancing dip in many spicy snacks.
Other Step by Step Recipes
---
5 Comments
---
Jun 06, 2017 by Kanupriya
Hello,
Your recipe for mango chutney is really amazing. Every family member loved this. Specially my hubby appreciated your recipe. Thank you so much.

---
Apr 19, 2017 by Pretika
Very good recipe I had had this with ripe mangoes but this is the first time for me to try with green ones. Very very yummy.

---
Jan 25, 2017 by soma
Hello mam... I have tried your gajar ka halwa recipe and it turned out to be awesome...i have added kesarwala doodh along with few kesar strands...it turned to be my families new fav..especially my hubby dearest and my darling daughter...Thank you so much:)

Response: Thank you Soma for trying the recipe and writing the feedback. Happy to hear that your family loved it.
---
Jun 25, 2016 by Simon Jenkins
3 stars may seem a bit mean. But I had to adapt the recipe a bit to be right for me.
I used no water, half the sugar - it's still pretty sweet - and twice the vinegar. Powdered ginger works, as does a plastic jar.

---
Apr 04, 2016 by MIriam
Tried this with green mango yesterday. Turned out very well and had it with dosas.

---