Lasun Chutney (Lahsun ki Chutney) is the very spicy and fiery chutney prepared by grinding garlic, chilli powder, cumin seeds and coriander powder. This simple and easy to make chutney is very popular in India and can be used in many different ways. When used appropriately, it can simply change the taste of curries, snacks, bhel and chaats and makes them even tastier, spicier and enjoyable. Try this today and see how you get addicted to it in no time.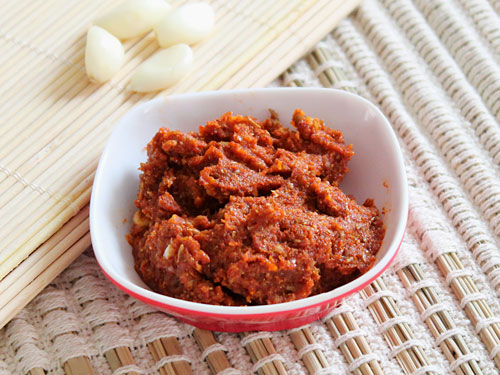 Preparation Time:
5 minutes
Serves:
4 servings (1/4 cup)
Ingredients:
25 Garlic cloves (lasun)
3 teaspoons Red Chilli Powder
1/2 teaspoon Cumin Seeds
2 teaspoons Coriander Powder
1/2 teaspoon Salt (or to taste)
Directions:
Remove the skin of garlic cloves and take them in a small plate.

Grind garlic cloves, cumin seeds, coriander powder, red chilli powder and salt in grinder until medium coarse paste. (Do not add water while grinding).

Transfer prepared chutney to serving bowl and serve with Gujarati bhakri and tomato curry (sev tameta nu shaak) in dinner. You can store this chutney in a small airtight container in refrigerator for a week.
Tips and Variations:
Add 3 tablespoons water and 1 teaspoon lemon juice to make lasun chutney for bhel puri, sev puri or any chaat.
Use mortar and pestle instead of grinder or food processor to make an authentic lasun ki chutney similar to one prepared in rural areas. The use of mortar and pestle to make it will be worth the effort as it tastes much better.
Serving Ideas:
It is a great add-on for any Indian curries. Add lahsun chutney in a curry which calls for use of garlic to make it more flavorful.
You can also have it as a part of the meal as accompaniment. In rural areas of India, it is usually served with bajra rotis and dal.
Add some water or yogurt to make a delicious spicy dip. Use it for preparing chaat or bhel and make them yummier and spicier.
Other Step by Step Recipes
---
11 Comments
---
Jul 12, 2015 by Shruti
Do we need to garnish it with mustard, cumin seeds and curry leaves?

Response: Hi Shruti, this chutney is prepared in Gujarati style and it doesn't require tempering (garnishing of mustard, cumin and curry leaves).
---
Apr 20, 2015 by Joshi
Hello there,

If I am reading this comment correctly, Lasun ni Chutney will go bad after a week. What if I am consuming it after 2 months, and it still tasting good?

Thanks.

Response: Hi, if it tastes good, has no foul odor, no color change and stored in the refrigerator, may be it is good but I'm not sure about it.
---
Mar 05, 2015 by Hafiza
It was really yummy. I liked it very much. I thought that I am eating in the hotel.

---
Feb 08, 2015 by yash
I tried the chutney recipes.They are really nice and my family relished them. Thanks for posting such interesting recipes.

---
Jan 09, 2015 by Swati Chandak
Hi, I tried most of your recipes. The way you have shown photos in step by step process is very good for new learners. Thanks a lot.

---
Dec 30, 2014 by WinieStar
What else can you serve this with to taste?

Response: This chutney tastes best when served with chaat, dal bati, gujarati meal (bhakhri, shaak, daal and rice) etc.
---
Aug 12, 2014 by shyam sundae soni
How can I keep garlic chutney fresh for long time?

Response: To keep garlic chutney fresh for long time, store it in a small airtight plastic container and place it in the refrigerator. Consume it within a week.
---
Aug 08, 2014 by amit
hii...i want to know in which utensil I should refrigerate garlic chutney to keep it fresh...I mean either steel or aluminum or plastic box?

Response: Hi Amit, you can use an airtight plastic container to keep it fresh.
---
Jul 30, 2014 by sowmya
I think i ended up putting more garlic. It has come very strong. What do i do. I am sorry

Response: Hi sowmya, don't worry. Increase the quantity of coriander powder and red chilli powder and mix well (add each powder 1/2 teaspoon at a time, mix well and check). To decrease the strong flavor of garlic, stir-fry the chutney with 2-tablespoons oil (or more, as you like) for a minute (but not more than a minute) over medium flame. You can store this chutney in an airtight container in refrigerator up to a week.
---
Jul 30, 2014 by sowmya
My chutney is not as red as pics here do i need to fry it?

Response: Hi Sowmya, thanks for trying the recipe. The colour of the chutney will depend on the color of the red chilli powder you used while making the recipe. Use Kashmiri red chilli powder to get deep red color. There is no need to shallow fry this chutney but if you want it then you can shallow fry it with 1-2 tablespoons of oil in a pan.
---
Jan 11, 2014 by Khushboojain
I want to know how to make lasun chuntey with daal bati.

Response: To make chutney for daal bati, mix 3 tablespoons water and 1 teaspoon lemon juice in prepared chutney.
---