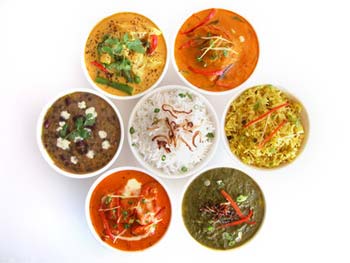 Dosa, Idli, Vada and many other Indian foods become tastier and enjoyable with many types of chutneys and Groundnut Chutney is one of the best one. It converts your dull food into sumptuous food and adds healthy punch as it's prepared using Groundnut, Roasted Gram dal, Coconut, Green chilli and other spices.
Preparation Time:
5 minutes
Ingredients:
1/2 cup Roasted Peanuts (skin removed)
2 teaspoons Coconut (Shredded)
3 cloves of Garlic
2 teaspoons Roasted Chana Dal (Gram Dal)
1 inch piece of Ginger
2 Green Chilli (chopped)
2 teaspoons Sugar
1 teaspoon Lemon Juice
1/2 teaspoon Salt, (according to taste)
Directions:
Grind roasted peanuts, roasted chana dal, shredded coconut, garlic, green chilli, ginger, sugar and salt in a grinder and make a mix powder.
Add 1/4 cup water in it and grind it again and make a smooth paste.
Take out the paste in a serving bowl.
Add the lemon juice in it and mix well.
Groundnut chutney is ready.
Serving Ideas:
It can be served as a spicy accompaniment with meal. Mix it with curd to make a delicious dip for Kabab, Pakora, Khakhra, Dhokla, etc.
Tips and Variations: 
You can use both types of roasted groundnuts, with skin and without skin.
If roasted groundnuts are not available, then roast them in a pan and remove its skin.
You can adjust the quantity of lemon juice and sugar according to your taste.
Adjust the quantity of green chilli according to your taste to make it more or less spicy.
You can also use mortar and pestle in place of grinder to make groundnut chutney if you do not want it to be very smooth textured. Do not add water if you are using mortar and pestle to prepare it.