This is a dry textured chutney prepared from garlic, ground nuts and spices and must have condiment for making delicious vada pav. This chutney is so widely used in Maharashtra for making
vada pavs
that it's commonly referred as vada pav chutney. The uniqueness of this dry garlic chutney recipe is that roasted groundnuts and sesame seeds are crushed with oil sautéed garlic, tamarind paste, red chilli powder and coriander powder that gives it a deliciously hot and spicy character.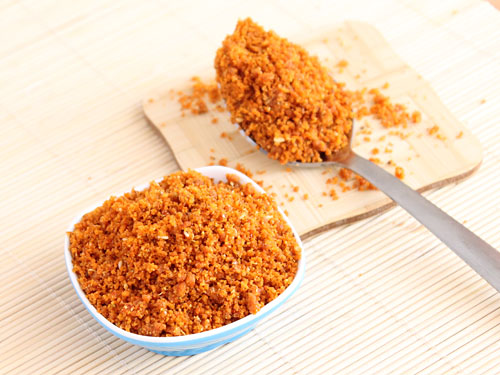 Preparation Time:
10 minutes
Serves:
8 servings (1/2 cup)
Ingredients:
8 Garlic Cloves
1/2 cup grated Dry Coconut
1 tablespoon Sesame Seeds
1 tablespoon Roasted Peanuts (groundnuts)
2 teaspoons Red Chilli Powder
1 teaspoon Coriander Powder
1/2 teaspoon Tamarind Paste
1 teaspoon Oil
Salt
Directions:
Heat 1 teaspoon oil in skillet or pan and roast garlic cloves over low flame for 1 minute. Turn off flame and transfer it to a plate

Dry roast grated coconut in same skillet over low flame until light brown. Turn off flame and transfer it to a plate.

Dry roast sesame seeds over low flame until seeds start to pop (approx. 30 seconds) and transfer to plate.

Let roasted garlic, roasted coconut and sesame seeds cool for 5 minutes. Add roasted peanuts, tamarind paste, red chilli powder, coriander powder and salt in grinder jar or food processor jar.

Grind them until medium coarse powder. Taste for salt and add more if required.

Chutney is ready. Transfer in an airtight container. You can store it for up to 15 days in refrigerator. Use it as a spread for preparing vada pav or

dosa

.
Tips and Variations:
Use 4 dry red chillies instead of red chilli powder for better taste and texture.
While roasting coconut make sure that it doesn't burn and turn dark brown.
Taste:
Hot and spicy taste with dry texture
Serving Ideas:
Use dry garlic chutney for
vada pav
preparation or as a spread for making delicious vegetable burger, sandwich, rolls, etc. Make nice aromatic garlic chutney paste by adding ghee in it and enjoy it with a south Indian meal.
Other Step by Step Recipes
---
21 Comments
---
Mar 17, 2018 by Nirmal
Very nice and delicious chatney

---
Feb 24, 2018 by Akash
Good Recipe. Loved the taste.

---
Feb 24, 2018 by Akash
Good Recipe. Loved the taste.

---
Aug 24, 2017 by Sumi
Hi.. A great recipe! Tastes so good.
I want to know whether I can store this chutney out of fridge and how long will it remain fresh.

Response: Yes, you can store the dry garlic chutney for up to 15 days in refrigerator.
---
May 20, 2017 by Sarasa
Can I use dry copra..I have with.

Response: Yes, you can use dry copra.
---
Nov 19, 2016 by Aastad
Great recipe....it helped me a lot..thanks.

---
Nov 11, 2016 by Vini mehta
Hi dere...
One query
Coconut used..is it the fresh coconut or desiccated one?
M looking for a good recipe of this chutney since long..I guess now my wait is over :)

Response: Hello Vini, desiccated coconut (dry grated coconut, which is easily available in the market) is used in this recipe.
---
Nov 01, 2016 by Parul
It is very tough to understand measurement of teaspoon & tablespoon. How much it mean in gram?

Response: Hello Parul, every ingredient has different density and weight. Using Teaspoon, Tablespoons and cups as a measure makes things easy as everyone do not have small weighing machine at home. You can refer to http://foodviva.com/cooking-measurements-conversions/ understand more about this measurement mechanism.
---
Aug 24, 2016 by Shiny
Thank you for giving detail photo and tips.

---
May 19, 2016 by Shilpa
Wonderful recipes in simple and easy steps with pictures helped a lot to learn easily. Tried many here and came out well. Thanks for the website .

---
Nov 11, 2015 by Usha
Awesome recipe..our family enjoyed it very much..thank you so much for sharing..

---
Sep 09, 2015 by Neha
Can I use garlic paste instead of cloves? If yes,then please tell the quantity.

Response: Hi Neha, I have never used the garlic paste to make this chutney. However, if you want to try it with garlic paste, add 1 teaspoon garlic paste.
---
Jul 22, 2015 by Div
Thanks for posting this. I had a rough idea about this recipe and was looking for the perfect recipe since a long time. I made this and turned out perfect and tasted like the original street level taste of Bombay garlic chutney. AWESOME !!

---
Jan 16, 2015 by Vaidehi V Patankar
Can I add few spoons of lime juice instead of tamarind or dry mango powder?

Response: Hi Vaidehi, you can try this chutney by adding ½-teaspoon lime juice instead of tamarind.
---
Jan 15, 2015 by bani
I have many recipes from this website and was helpful, please put more easy and quick recpies for kids as well.

---
Jun 16, 2014 by radhika
I am trying it right now

---
Feb 24, 2014 by darshana raval
Is it compulsory to add tamrind paste?

Response: Tamarind paste is added to get mild tangy taste. You can add 1/4 teaspoon dry mango powder instead of tamarind paste in above recipe.
---
Jan 02, 2014 by KayAar
Tried this yesterday. This was a hit with family and friends. Thanks for much.

---
Dec 05, 2013 by khushboo
Can we make chutney without coconut?

Response: You can make it without adding coconut but texture and taste will change. Coconut gives it a dry texture and nice flavor.
If you want to make garlic chutney without coconut (semi dry texture) then try this recipe (http://foodviva.com/chutney-raita-recipes/lasun-chutney-recipe/).
---
Jul 28, 2013 by Kshama
I made this recipe last night, it was perfect ! Thank you for posting this recipe !

---
Nov 22, 2012 by apani rasoi
You have a great food blog. Good detailed steps for recipe.

---