Making south Indian coconut chutney for dosa and idli is very simple; just blend fresh coconut with chillies, curd and ginger and mix tempered mustard seeds. However, the real taste differentiators in this recipe are roasted chana dal, tamarind paste, cumin seeds and curry leaves. Follow this recipe and discover how good the chutney tastes, and yes, don't blame us if you get addicted to it.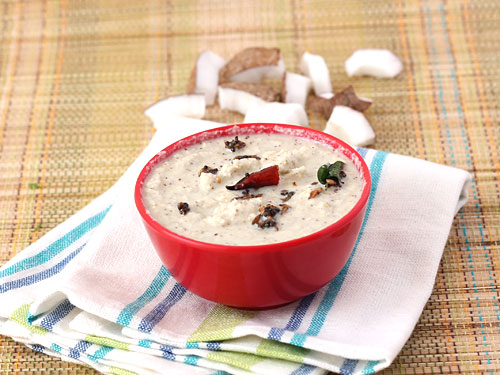 Preparation Time:
10 minutes
Ingredients:
1 cup roughly chopped Fresh Coconut
1 teaspoon grated Ginger
2 Green Chillies, chopped
1 tablespoon Roasted Chana Dal (daliya)
1 tablespoon Curd
1 teaspoon Lemon Juice or Tamarind Paste
1/2 cup Water
Salt
For Tempering
1/2 teaspoon Cumin Seeds
1/4 teaspoon Mustard Seeds
4-5 Curry Leaves
1 Dry Red Chilli
1 teaspoon Oil
Directions:
Take chopped coconut in a small chutney jar of food processor or grinder.

Grind it to make a medium coarse paste and transfer to a plate.

Add green chillies, roasted chana dal and ginger in same chutney jar.

Grind them to a smooth powder.

Add crushed coconut, curd, lemon juice, salt and 1/2 cup water.

Grind them to make a medium coarse paste. If required, add more water to get desired consistency of chutney and grind again. Transfer it to a bowl.

Heat oil in a small tempering pan. Add mustard seeds. When seeds begin to crackle, add cumin seeds, dry red chilli and curry leaves and sauté for 10 seconds.

Take away pan from flame and immediately pour tempering over the prepared coconut paste and mix well. Coconut chutney for idli and dosa is ready; enjoy it with your favorite type of dosa.
Tips and Variations:
Adjust quantity of water according to make it thick or diluted.
Avoid addition of green chilles while making coconut paste and avoid dry red chillies in tempering to make white coconut chutney
Consume fresh idli-dosa chutney immediately or refrigerate it and use it for up to 3 days.
Serving Ideas:
It's hard to imagine south Indian dishes like dosa, idli, vada, etc being served without it. However, its use is not just limited to it, as it can be served as an accompaniment in lunch or dinner along with paratha, curry, steamed rice and dal tadka.
Other Step by Step Recipes
---
21 Comments
---
May 30, 2018 by Rupayan
It's awesome and it's very delicious and spicy too.

---
Nov 10, 2017 by Nagaraja hn
Good & simple method to follow.

---
Aug 26, 2017 by Anuj Agarwal
Method of making Coconut chutney seems to be quite simple n easy.

How this chutney is so white....

---
Jan 28, 2017 by Jenny
So yum and just how I remember it from growing up in SE Asia. I used plain yoghurt in lieu of curds and it worked out nicely. I like the slight tang. I can't do dosas without it. It would be like pancakes without maple syrup - sad and lonely.

---
Sep 12, 2016 by Pranav
Tried it...turned out superb. Thanks for tip that green chilly shall not be mixed with coconut while grinding....

---
Jul 31, 2016 by Shanthi
Is it American rice or pony to soak for dosa?

Response: Hello Shanthi, ponnie rice (idli/dosa rice / parboiled rice) and normal rice, both are used to make dosa batter. Follow this link of dosa for exact measurements of rice.
---
Jun 14, 2016 by Joyce
Superb recipe. I love it. Thank you.

---
Jun 12, 2016 by Arsheen naaz
Thanks for the tasty recipes.

---
May 18, 2016 by Udit
What an awesome recipe. It is my favourite chutney recipe now.

---
Mar 17, 2016 by Seema
Super recipe tried today everyone loved it with paddy. Thanks!

---
Feb 14, 2016 by Sudipta
What an awesome recipe. It is my favourite chutney recipe now.

---
Dec 11, 2015 by Rafath
It was so delicious. I would like to prepare it daily.

---
Dec 05, 2015 by Ruchi
Nice recipe. Just one suggestion cover your chutney with a lid immediately after adding tempering over chutney. It gives amazing smoking taste to chutney :)

Response: Thank you Ruchi for trying the recipe and sharing the wonderful tip.
---
Nov 24, 2015 by Kim
Very cool presentation. Perfectly described and illustrated. Thank you I shall definitely be coming back to food viva for all my South Indian dishes!

---
Oct 20, 2015 by Beena gaur
Cooking made so easy for first timers. Great ideas showed by step by step method keep it up!

---
Oct 10, 2014 by ankita patel
i am so happy to make this receipe but i suggest you to plese add some soup receipe like hot and sour soup,tomato soup etc.

---
Jun 28, 2014 by suchita
Should I soak the chana daal before roasting?

Response: Hi suchita, there is no need to soak chana dal before roasting in this recipe.
---
Jun 25, 2014 by vidya.k
thank you for step by step recipe.Easy to follow. I tried the white chutney it turned good.

---
Jun 20, 2014 by samra khan
Awesome presentation.... love d way u demonstrate by step by step pictures. ..thank u so much for ur help....

---
Oct 01, 2012 by Prashant
I tried this and it turned out perfect!!. :) Great recepie with steps...

It had a great taste.

---
Sep 04, 2012 by pradeep
Awesome we now use this recipe in our restaurant !

---