Red Chilli Chutney, a hot and spicy yet delicious chutney prepared from dry red chillies is a must have condiment to enhances the taste and flavor of many Indian snack items. This chutney recipe uses dry red chillies and combines its hotness with garlic to take its flavor profile to the next level. Not only that, the paste of chilli, ginger, garlic and spices is sautéed in oil to give it a tempting taste and texture which is not possible otherwise.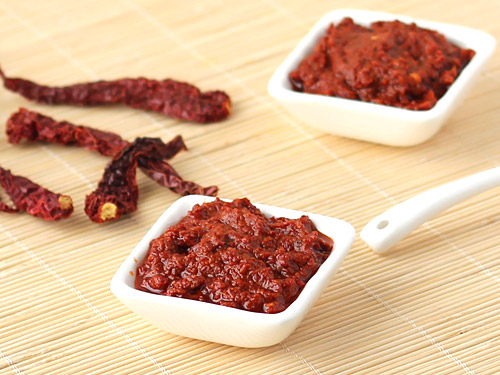 Preparation Time:
25 minutes
Ingredients:
8-10 Whole Dry Red Chillies
1/2 inch Ginger, chopped
8 Garlic Cloves
1½ teaspoons Lemon Juice
1 tablespoon Cumin-Coriander Powder
2 tablespoons Oil
1/3 teaspoon Salt
Directions:
Deseed and soak dry red chillies in water for 20 minutes and drain them.

Take drained red chillies, ginger, garlic, cumin-coriander powder and salt in a small chutney jar of a food processor or grinder. Grind them with 1 tablespoon water until smooth paste.

Heat 2 tablespoons oil in a medium size pan and add prepared paste.

Sauté it for 2-3 minutes over low flame. Turn off the flame and let it cool at room temperature and mix lemon juice.

Transfer red chilli garlic chutney to serving bowl. Use it to make delicious chaats like bhel puri, sev puri or pav bhaji, etc. and give it a spicy touch.
Tips and Variations:
For even better taste and texture, use mortar and pestle to make this chutney. It will give a coarse texture like no other.
Use more oil if you like to have an oily chutney. It improves the taste and texture a lot.
Taste:
Very hot and spicy
Serving Ideas:
There are simply many ways in which red chilli chutney can be used to transform any dull food into titillating spicy food. E.g. use it as spicy condiment for dosa, idli or as a dip for samosa, kachori and various Indian snacks or as a spread to make sandwiches and rolls.
Other Step by Step Recipes
---
7 Comments
---
Nov 09, 2017 by Kavya monish
Can this chutney served with rotti?

Response: If you like the taste of the chutney, you can serve it with paratha, roti or snacks like dhokla, vada, etc.
---
Sep 30, 2016 by David Chaple
Very simple and very hot chutney. I liked it..

---
Dec 01, 2015 by Priya
Hi, Nice recipe. How long can we store this?

Response: You can store it in an airtight container in the refrigerator for around a week.
---
Jun 30, 2015 by Sana Shaikh
Thank you for the recipe it's very yummy and easy to make and it's also very delicious.

---
Oct 28, 2014 by Nirmala Meghani
Hi, I like this chutney, it's very easy, all ingredients are easily available at home, so it is very easy to make. Thank you very much to share this recipe of chutney.

---
Jun 30, 2013 by Simple
Great chutney. I have made this & it is simple yet tasty.

---
Nov 03, 2012 by Sarah
Oooh, that looks delicious. How long would this last in the fridge?

Response: It would last up to a week in the fridge. However make sure that it has been placed in the box with lid and not left open so that its aroma does not spread around to other food and chutney doesn't dry up. While reusing, you can either warm it up (only the required amount) or enjoy it cold itself.
---