Rava Upma (Suji Upma) is a popular breakfast dish in India. It is nutritious, tasty and very easy to make at home by mixing and cooking roasted rava (suji, semolina) and sautéed vegetables in water. The ghee and carefully balanced spices make it simply irresistible. Follow this simple south Indian breakfast recipe and discover how really easy it is to make at home.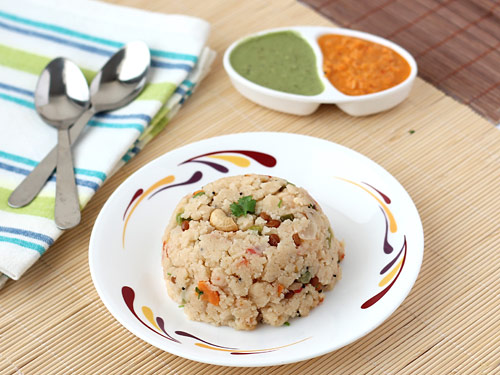 Preparation Time:
10 minutes
Ingredients:
3/4 cup Rava (Sooji/Semolina)
1/4 teaspoon Mustard Seeds
1 teaspoon Chana Dal (optional)
1 teaspoon Urad Dal (optional)
1 pinch Asafoetida
1-2 sprigs Curry Leaves
1 medium Onion, finely chopped
1/2 teaspoon grated Ginger
2 Green Chilli, chopped
3 tablespoons Carrot, finely chopped
2 tablespoons Fresh or Frozen Green Peas
3 tablespoons Capsicum, finely chopped
1 large Tomato, finely chopped
5-6 fried Cashew Nuts (optional)
2 tablespoons finely chopped Coriander Leaves
1 teaspoon Lemon Juice
Salt to taste
1 tablespoon Ghee (Clarified Butter)
2 tablespoons Cooking Oil
1 1/2 cups Water
Directions:
Heat 1 tablespoon ghee in a kadai or heavy based pan. Add rava in it.

Roast it on low flame until it turns light brown, approx 4-5 minutes (time required to roast it may vary based on size and thickness of kadai). Keep stirring continuously. When done, transfer to a plate.

Heat 2 tablespoons oil in same kadai over medium flame. Add mustard seeds. When they begin to sputter, add chana dal, urad dal, asafoetida and curry leaves. Cook until dals turn light brown.

Add chopped onion, grated ginger and chopped green chillies and sauté for 1-2 minutes until onion becomes translucent.

Add chopped carrot, green peas, chopped capsicum, chopped tomatoes and salt. Mix well and sauté for 2-3 minutes.

Add water and bring the mixture to boil, it will take around 2-3 minutes.

Add roasted rava and lemon juice; mix well.

Stir continuously for 1-2 minutes to avoid lumps.

Cover it with a lid and cook on low flame until mixture turns thick, it will take around 3-4 minutes. Stir in between regular intervals.

Turn off heat and remove the lid. Let it settle for 10 minutes before serving.

Add fried cashew nuts and coriander leaves, mix well and transfer rava upma to a serving plate.
Tips and Variations:
You can also add boiled vegetables of your choice in above recipe and make it healthier.
Roast rava properly over low flame until light brown in color otherwise it will turn sticky after cooking.
Taste:
Salty and mild spicy
Serving Ideas:
Serve it with tea in the morning for breakfast or in the evening as afternoon snack. It is a perfect food to be packed in kid's lunch box.
Other Step by Step Recipes
---
27 Comments
---
Feb 17, 2018 by Aarti Gulati
Thank you so much for sharing recipes..I prepared upma with ur recipe...it was so yummy... My hubby doesn't like upma bt today he ate n said it's tasty.. thank you ....

---
Nov 02, 2017 by harihar
Beautifully explained.

---
Feb 16, 2017 by Venkat
I was told that lemon juice should be added only after switching off the flame otherwise it will become bitter. Even in lemon rasam lemon juice is added only after switching off the flame. What is your take?

Response: Hello Venkat, that's true about lemon rasam. However, you can add lemon juice while cooking.
---
Sep 03, 2016 by Nimmi Maanu
This upma is looking delicious and nice presentation too...I think the Best Rava makes the tasty upma and which is one of my all time favorite dish and I can never get bored out of this.

---
Aug 13, 2016 by Varsha parab
I like the recipes that you post. They are easy to make.

---
Feb 28, 2016 by Deergha Patel
Recipe is easy to cook and healthy too.

---
Sep 19, 2015 by Ranga Reddy
It is quite suggestive. Thank you. let me know how to prepare kesari with rava please.

---
Aug 20, 2015 by saravanakumar
Really very good reciepies, Kindly advise me on more on south indian items - thank you :)

---
Jul 28, 2015 by Shalu Singh
This recipe so easy and test is so good...

---
Jul 28, 2015 by Bhumika Khurana
Thank you so so so much for making my breakfast time fun. Loved your recipe, simple, easy and so yummy food. You guys are the best.

Response: Thank you Bhumika.
---
Jun 29, 2015 by Diksha
You people seriously rock. I loved the recipe, easy to cook and healthy to eat. Thanks a lot.

---
Jun 27, 2015 by Chandni
Turned out amazingly good.

---
Jun 10, 2015 by Softy
I tried upma for the first time and recipe helped me a lot. Thanks for this yummy recipe.

---
Jun 01, 2015 by Padma Shankar
Nice recipe, very easily explained.

---
Mar 02, 2015 by Bharti
Excellent recipe. Do you have book for all your recipe!

Response: Hi Bharti, thanks for trying the recipe. Right now, we do not have book for all our recipes but we are planning to make an ebook.
---
Feb 12, 2015 by Raj Kumar
It's very nice and helpful to cook.
Thanks.

---
Jan 31, 2015 by Mrs.Gupta
I made it for my husband. Do post more authentic South Indian receipes.

---
Jan 19, 2015 by Sidhi
Nice and yummy. My daughter loves it.

---
Jan 03, 2015 by Santosh
Perfect explanation, very easy to understand for such a difficult recipe.

---
Dec 21, 2014 by Er.Bipen Singh Charak
Very great dish. Please keep me informed about some North-eastern recipes.

Response: Hi, you can find more north eastern recipes here.
---
Nov 13, 2014 by sneha Verhani
It's an awesome recipe. I have to give upma to my son in his lunchbox. How can it remain soft in tiffin for about 2-3 hours? Can you give any suggestions?

Response: Hi Sneha, cover the upma with a lid immediately after done cooking to prevent it from turning dry. Fill the lunchbox with warm upma and cover it with a lid to keep it soft for longer time.
---
Nov 10, 2014 by Khushi
I simply loved it. Thank you a lot. Please post few more south Indian recipes.

Response: Hi Khushi, we will definitely upload more south Indian recipe.
---
Nov 06, 2014 by grisha
The recipe is really explained well. May I know any particular website or page where you post your recipes?

Response: Hi Grisha, I am posting recipes on foodviva.com only. Our facebook page is https://www.facebook.com/foodviva. Please, subscribe to our email feed so when we upload the new recipe, you will get the notification via mail.
---
Jul 21, 2014 by shweta agrawal
good explanation with step by step with pictures . it gives more confidence.

---
Jun 09, 2014 by Vristhi
Perfect recipe as i want.
step by step you explain perfect..
my kid like upma a lot.. i learn it and made it.. thanks a lot.

---
Feb 14, 2014 by Diya
I like all your recipes. :)Thanx

---
Mar 11, 2013 by dr ashok
I know through dr vasoya my friend

Response: Thanks a lot for the feedback Dr. Ashok. We hope that recipe came out well and to your liking!
---