How To Start Your Own Food Blog In 15 Minutes?
On Jan 1st, 2015, Foodviva.com completed 3 years and in these 3 years it has grown from meager 100 page views a month to 1.5 million (15 lac) page views per month and it's growing faster than ever. With its continued growth and stable earnings, my husband and I are now convinced that food blogging can generate a significant amount of side income and can potentially become a main source of income in future. So if you are a good cook (like I am), love to share your creations to you friends, family and to everyone, have little bit of free time, you too can start a food blog in less than 15 minutes and make your presence felt on this virtual world.
It doesn't take a fortune or huge effort to start a blog; what it requires is next 15 minutes of your time and little bit of willingness. So let's get started!
Three Essential Steps For Starting A Food Blog:
Step-1: Domain Name and Hosting
This part is simple and it's very similar to buying stuffs from your favorite website on Internet. First of all, you need to find/brainstorm few suitable domain name for your food blog (it is a name that you would like to give to your website; e.g. domain name for this blog is foodviva.com)
Few tips for choosing domain name for food blog:
Select a .com whenever possible.
Should be short (5 to 15 characters), easy to pronounce and spell.
Avoid hyphens and numbers.
Avoid strings having multiple words in it.
Try to select a name that is indicative of the topic of blog.
Be creative and try to keep name that is timeless and can be a good Brand Name.
Read more tips for choosing right domain name, if needed.
Once you have shortlisted and prioritized few names, go to
Bluehost*
and check if it's available by entering it in the "new domain" box and click next.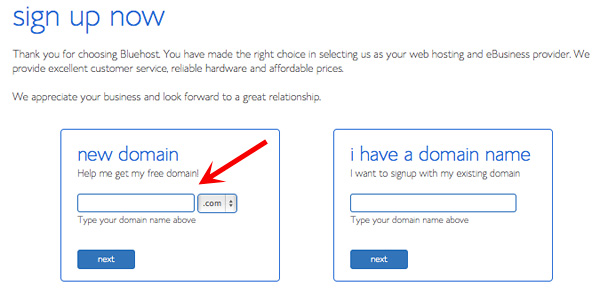 Once you find the domain name that is available, it will ask you to select a hosting plan similar to one displayed below.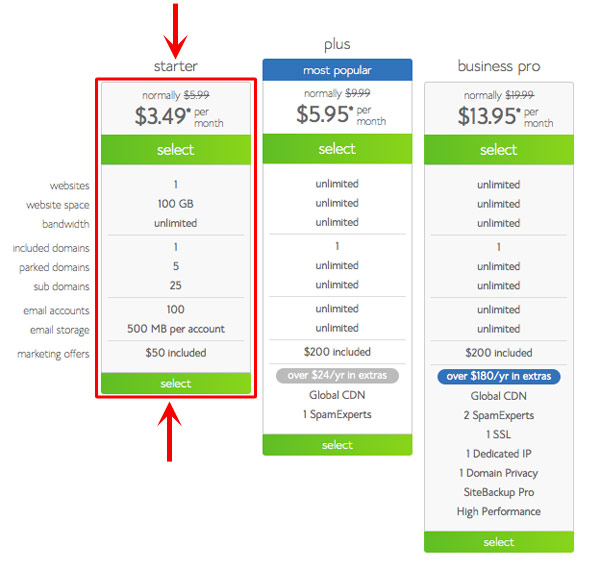 To start a food blog, domain name needs to be hosted somewhere. Hosting is similar to renting space on the web in which you can store your recipes, food articles, photos, etc., and display it to your visitors. Bluehost generally has good deals going on all the time and gives you your domain name for free if you decide to host with them (this would save you approx. 15$ in domain name registration fees right away).
I recommend choosing "Starter Plan" since it provides sufficient server space and capacity to start a food blog and serve few hundred pages a day while you are working on building the content for your blog. Also by paying in lump sum you will get cheaper rate, save quite a bit of cash and do not need to worry about monthly payments.
On a sign up page, provide details in account information (please make sure to provide valid email id since this is the email id to which your account details will be sent after successful sign-up).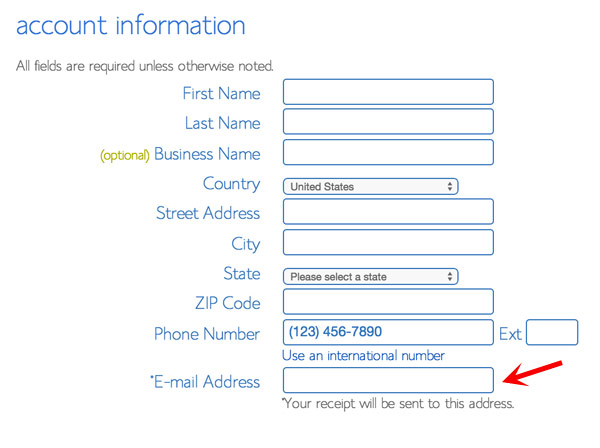 In "Package Information" section, select appropriate "Account Plan" (The longer the plan you select the lesser cost per month.) and "Domain Privacy Protection" and keep all other options unselected as shown in the screenshot below. Domain Whois privacy protection prevents your personal address and phone information from being displayed on public Whois information – this is not required but recommended. Note: If you are using your existing domain name then "Domain Privacy Protection" option will not be available for you.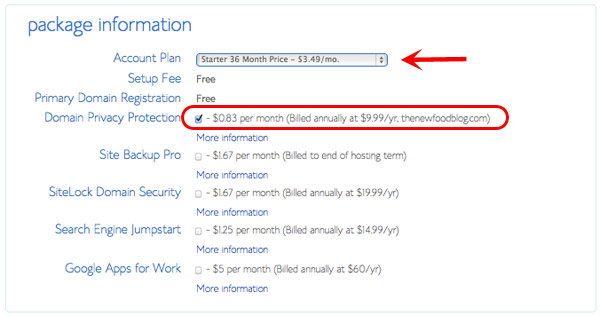 Fill the payment details and click next. Now it will show you some options for upgrade, just ignore them and complete the payment; it will show you a "welcome to bluehost" message and ask for setting up the password for your new hosting account.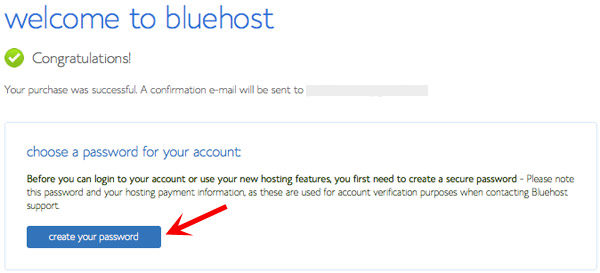 Accept Terms and Conditions and type the password, click on "Create" and login to your account with newly created password. Tip: Note the user name – it would be same as your domain name. It would also send you an email with your new Bluehost account info and login details. Please preserve this email for future reference.

Step-2: WordPress Installation
Now you'll need to go through the process of installing WordPress. It is a content management system (CMS) and a blogging software that provides all necessary tools and features to run a blog without need of any technical know-how. Foodviva.com also uses the WordPress and installing it is super simple and requires just few clicks.
Go to bluehost.com, click on login link available on top right corner. On next page, type your credentials and login to your newly created account. It may show upsell message for helping you get started, click "I can do it" (why should you pay them when you can do it yourself for free in just 5 minutes by following this guide?)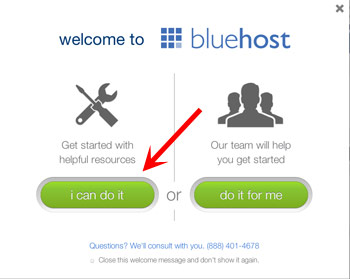 Go to the "Website" section on the home page and click on WordPress logo.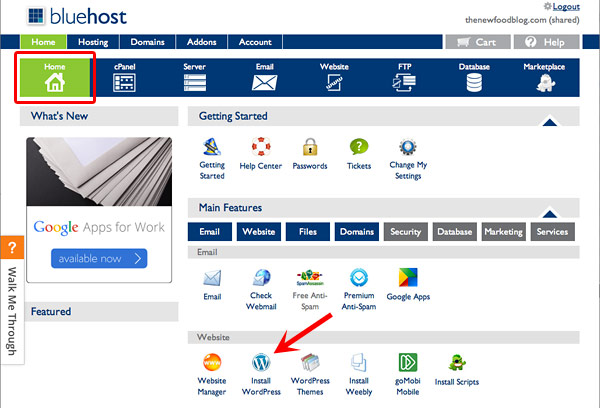 On next page, it will show you the latest WordPress version. Click on "Install".

On next page, select domain, keep "Directory" box empty and click on "Check Domain"

On next page, select "I have read the terms and conditions of the GPLv2" and click on "Install Now". It will start the WordPress installation and show the progress on the top of the page. Once it is complete, it will show "Your Install is Complete" message.Click on "View Credentials"

Click on "View" to see the URLs and credentials of your new WordPress installation.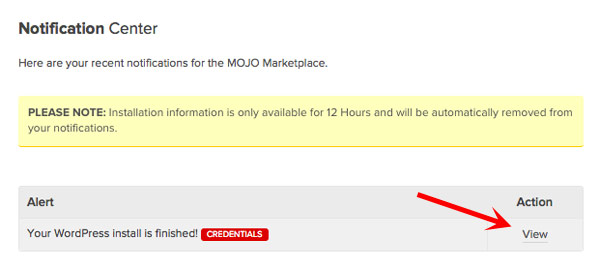 URL – this is the name of your new blog.
Admin URL – this is the URL you would use to configure and manage your blog.
Username and Password – these are the credentials that you would use to log in to your WordPress Admin console.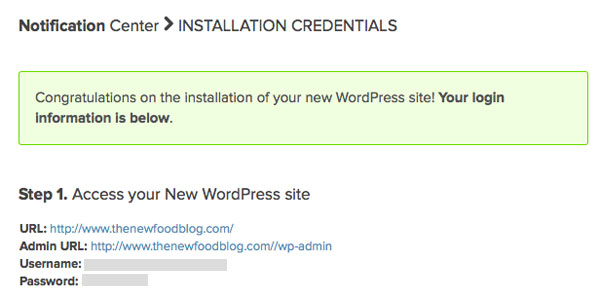 At this point your shining new food blog is now live and if you go to the URL, it will show a web page similar one given below.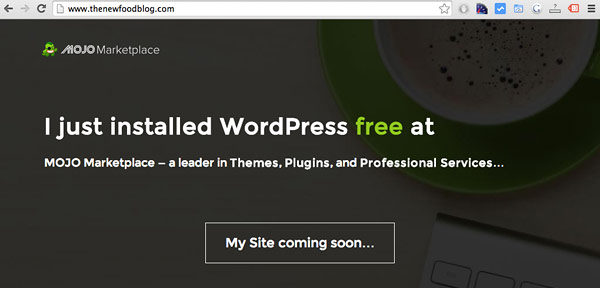 Now let's log in to WordPress Admin Console to activate the blog. Type Admin URL and you will see page similar to this.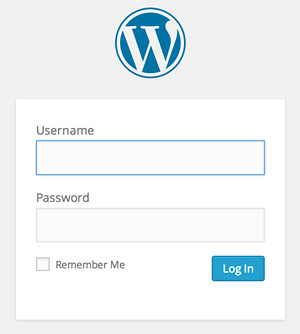 Sign in with your credentials noted in previous step and you will see a message similar to one given below and click on "click here"

You will see a message similar to

Click on the "click here" or type URL in browser to see your brand new web page of the blog. You will see webpage similar to one given below with default "My Site" blog title, "Just another WordPress Site" tag line and "Hello world!" blog post.
WooHoo! Your own personal blog is live now! Exciting! Isn't it? Click around and play with your new website.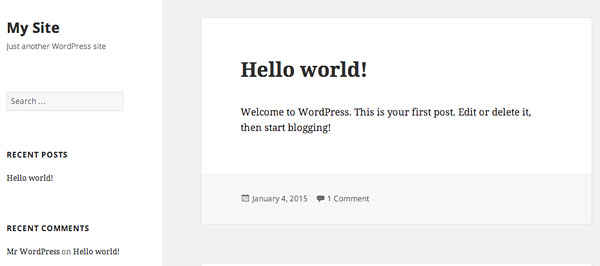 You're now just a few minutes away from sharing your first recipe to your friends, family and world! However, before you jump onto it, let's give your food blog a custom touch and make it little beautiful and adorable!
Step-3: Making It Look Beautiful
Now lets work on giving it a desired look and feel. It can be easily achieved by three different ways; Free WordPress themes, paid premium WordPress themes or custom WordPress Themes developed only for your website. WordPress has tons of free WordPress themes and you can browse through the options
here
and if you want to have more professional looking blog that works on most of the browsers then I recommend following premium themes (choose one that you like).
The Solostream Themes
– Foodviva.com is using
Solostream's WP-Clear theme
. We love it because of its neat and clean minimalist design that also allows displaying various ads to monetize your blog without impacting customer experience. The other good thing about it is that it allows you to buy single theme at a cheaper price. So if your heart is set on one particular theme then why pay more! We highly recommend it.
The Genesis Framework
– This the best of the best premium theme that is SEO friendly, adheres to WordPress security standards and optimized for mobiles and speed. Among all StudioPress themes, we especially like
Foodie Pro theme
that is tailor made for food blogs. Note: We are not using it currently but had evaluated it few months back when we were considering upgrading to new look and feel.
Elegant Themes
– these themes looks great, are easy to customize and provides quite a few different options. The best thing about it is that it allows you to try all of their 85+ themes with a single price and it's a little bit cheaper than Genesis Framework.
How to Install My New WordPress Theme?
Once you finalize your theme and have downloaded its .zip file, Go to Dashboard -> Appearance -> Themes.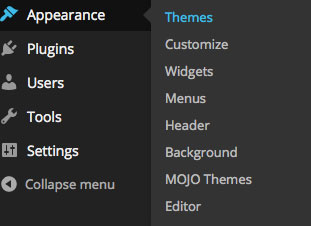 On next window click on "Add New".

Click on "Choose File", select theme's zip file and then click on "Install Now"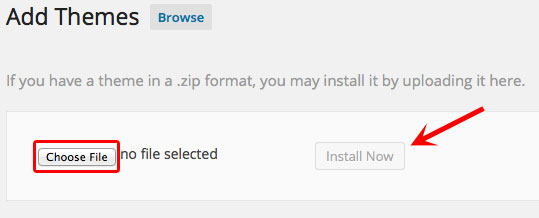 Go to Dashboard -> Appearance -> Themes and you will see your newly installed theme there. Hover mouse over it and click on "Activate". This will change your blogs look and feel to new a theme.
Ok, I have my personal food blog, now what?
Now it's time to write your first recipe of food article. However, before that, we recommend that you complete these
6 essential WordPress configurations
to secure your blog and make it user and SEO friendly.
*Disclaimer: Please note that some of the links are affiliate links in this post and we will earn a commission if you purchase through those links.
---
12 Comments
---
Feb 12, 2018 by Sujata
Very informative... Love your blog. Thank u for giving such a useful information

---
Jan 06, 2018 by Sinh Pham The
You made it very detailed and easy understand. Thanks for your post.

---
Dec 01, 2017 by Ndidi
So informative I will try it because am looking on how to create a food blog.

---
Mar 14, 2017 by Swapna
Thanks for the detailed post, your recipes are so nice. But i have one question for writing recipe which plugin you are using on your website, can you please tell me? And also write one post on necessary plugins.

---
Oct 06, 2016 by Vijaya
I am an old foggy and computer illiterate but reading your detailed instruction, any idiot can start the blog and inspired me to do that and I think I will do right now right here
Thank you so so much for sharing information. You are a 5+star.

Response: Thank you Vijaya.
---
Aug 11, 2016 by Sayantani
Hi,i am the big fan of your blog. Thanks for sharing mouthwatering recipes with us.I have a food blog in wordpress last 1.5year(BASIC PLAN), but that not connected through bluehost. I want to know how to earn money from that? I need to update to which plan for earning money? Please help on this.

Response: Hello Satyantani, if you want to earn money from the bluehost, you need to create an affiliation account on bluehost website and then place the code given by bluehost on your page. They have given the nice instruction for creating the affiliate account.
---
Jun 30, 2016 by Seetha
U have inspired me too. This is an excellent way to pass down the recepies to the future generations and share with friends. How many recepies would I need to compile to start a food blog.
How much time does this take in translate into income?
5 stars for some awesome recepies and the way you make the viewer feel it is so easy and doable.
Thanks.

Response: Hello Seetha, you can start the blog with a single recipe and then add more later as much as you want.
You can definitely earn from the food blog but you need to keep patience in starting years. The income starts within 2-3 months but it will be a little amount. To get the full time job income, it requires full time working and the income will definitely increase after a year by year. It can increase in few months and it can take few years too, as it depends on so many factors like number of recipes, quality of recipes etc...
---
Jun 18, 2016 by Nilashini
Hii, because of our detailed step by step instructions with screenshot,I just followed yours and created a new food blog to share my recipes.Thank you so much for your detailed instructions.It would be helpful for many beginners who are all like to start new websites.Thank you once again:)

---
May 28, 2016 by Joy
Hi, I am joy. Thank you so much for ur help. Please tell me how to open the account with ad groups?

Response: Hello Joy, you have to go to the particular ad groups (like adsense, gourmet ad, media.net) site and follow the instructions to set up an account. After that, you need to place the ad code on your site which is provided by the ad groups.
---
May 24, 2016 by Kanupriya
Hello, firstly I want to say thanks for such delicious and easy to make recipes.
I am not able to choose the domain name. Can u help me out.

Response: Hello Kanupriya, choose the domain name which is easy to remember, short, easy to pronounce and related to your blog.
---
Apr 23, 2016 by Sneha chowdhury
Hi,I am also very interested to start food blog and after reading your blog it has motivate me a lot. Please tell how to earn money from food blog and how you receive the money you have earned. One more thing I am not that techy so will it be easy for me too start food blog and earn some money.

Response: Hello Sneha, you can start the blog and earn money, it's not a rocket science however, it requires hard work to start a quality blog and patience to earn money. First year, you will get very little money but after 2nd year, it will be increasing. You get the money via check/paypal account, it depends on the ad groups which you have joined.
Best of Luck to start a food blog.
---
Mar 30, 2016 by Swarna praaad
Hi, I am very keen to start my food blog and you have really inspired me. Please tell how can earn money with ads. I have no idea about that.

Response: Best of Luck, Swarna. To earn the money via ads, you need to open the account with ad groups like Google Adsense, Media.net, Gourmet Ads, etc. Once your site is approved, they will provide you the ad code which you need to place it on your website to earn the money.
---